There are different and diverse types of men's underwear in the market today, and this variety exists due to the fact that body and image conscious men everywhere also want to look and feel good in their undergarments. While some prefer conservative boxers and briefs, others are not afraid to put on bikini underwear, thong underwear and G-strings. Nowadays, many work out in gyms in order to showcase their buffed bodies with the right G-strings which can build up their self confidence. Good Devil is one such brand that men turn to for ego-boosting sexy creations that provide an exceptional fit along with excellent quality and unique designs.
Miami based Good Devil offers myriad underwear styles choices so that fashionable men all over the world can explore both their naughty and good sides! The speciality of this American brand is the production of sexy and provocative men's underwear. Their designs are (therefore) not for the faint-hearted but for individuals who are not afraid to don skimpy revealing undergarments to augment their sex appeal! With a Good Devil product, wearers are always assured of a design that is anatomically shaped for the male body. In other words, all their products are specifically engineered for the utmost pleasure of both the wearers and the people surrounding them. Apart from G-string underwear, Good Devil also specialises in bikini swimwear, bikini underwear, bodysuits, boxer brief underwear, brief underwear, jock strap underwear, pouch underwear, square cut trunk swimwear, tank top T shirts, thong swimwear, thong underwear and underwear accessories for men.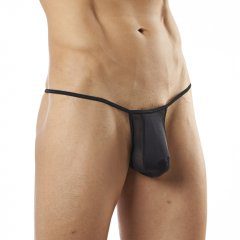 Add some fun and excitement to your daily underwear with exciting and racy Good Devil Sheer Side G-string Underwear. Made from a soft fabric blend of polyamide and spandex, the G-string provides ideal flexibility and stretchability. Soft and breathable, the fabric is very durable and will keep you cool during those hot days in the summer. Suitable for wearing on a daily basis or for those special occasions, Good Devil Sheer Side G-string Underwear is available in red, turquoise, white, yellow, black, lime, navy blue, orange, pink, purple and royal blue. Designed to show off your package in the most sensual manner, this G-string is designed to fit all waist sizes perfectly and guarantees a body-hugging fit the moment you put it on!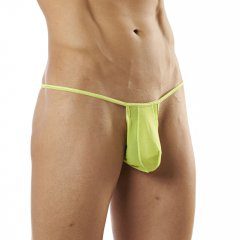 Are you interested in some Good Devil Sheer Side G-string Underwear or other men's designer wear from the Good Devil line? At DealByEthan, you will find the entire range of Good Devil outfits as well as other stylish menswear, swimwear, loungewear and men's underwear at amazing rates!