For most guys, shorts (in varied forms such as boardshorts, water shorts and aqua shorts) are the most preferred choice of beach attire over all other beachwear options ranging from tight and skimpy bikinis, thongs, G-strings to square cut trunk swimwear. The different designs and style that are available means that you can always find beach shorts to suit your taste and body type. Whether your wear your casual and slick shorts with a T shirt or without one, just team it up with a pair of flip flops to look cool and easy while lounging around or splashing in the water.
Among the various leading menswear brands, Falocco Collection by the world famous fashion photographer John Falocco, is most trusted when it comes to fashionable men's underwear and swimwear. John Falocco has been designing and producing fashionable and modern collections of men's swimwear and underwear since 1995. Besides board shorts, this leading menswear brand also specialises in bikini swimwear, boardshorts beachwear, bodysuits, long sleeved T shirts, muscle top T shirts, pants, short sleeved T shirts, square cut trunk swimwear, tank top T shirts, thong swimwear and thong underwear for men.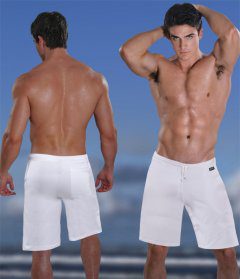 If you are looking for a bit of more coverage in your beachwear and want to look good and show off your chiselled and sun tanned body at the same time, you will thoroughly appreciate the look and feel of Falocco Collection South Beach Shorts! Available in basic white and black, these shorts combine a great fit and functionality to augment your comfort and attraction levels whether you wear them at the beach or the pool! These shorts are a perfect manifestation of style and comfort!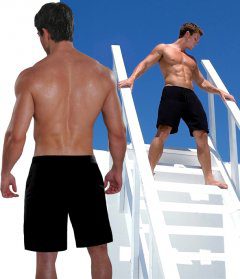 Manufactured entirely in the United States, the Falocco Collection of South Beach Shorts makes use of the finest fabrics with great attention to detail. Designed with a waist drawstring, these low cut shorts feature two side pockets and a back pocket for holding all your small essentials. Along with the softness of cotton, these simple and stylish beach shorts offer a relaxing and slim fit to create a truly masculine look for its wearer anywhere, anytime!
Well known for offering stylish beach attire that will get you noticed wherever you wear it, slide these shorts on to draw instant attention and admiration from those around you! To get your hands on some Falocco Collection South Beach Shorts or any other tantalising Falocco Collection outfit, visit DealByEthan today! Check out the widest variety of smart and trendy men's underwear, menswear, swimwear and loungewear available online at attractive rates!