It needs a lot of courage to defy fashion trends, and Frank Dandy had that courage. Frank Dandy, a Scandinavian, brought about a complete change in mens underwear fashion. Earlier, mens underwear was available in plain drab shades, and mostly remained concealed under the pants. But Frank Dandy created unique patterns and designs which when introduced became very popular among men. Everyone wants to look different and Frank Dandy brings this difference!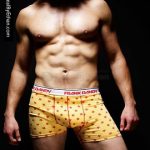 Boxer briefs have always been in great demand because of he tight fit and square cut designs. Frank Dandy added spice to this product. It's Royalton Boxer Brief Underwear appears in the funky shade yellow instead of drab boring colours. It is indeed difficult to change human mind set but someone has to take the initiative and Frank Dandy took it. Royalton Boxer Brief Underwear has a yellow base adorned with pink polka dots. It has a unique pouch style that provides utmost comfort. The underwear has a broad waistband labelled with the brand name. So now be enjoy showing off your underwear waistband from below your pants!
The fabric that goes in making Royalton Boxer Brief Underwear consists of cotton (95%) and elastane (5%). Cotton takes care of your comfort while elastane helps in retaining the elasticity of the underwear. The combination of these materials enables perfect fit and unique finish that is difficult to find in any other brand. Apart from boxer briefs, Frank Dandy also designs briefs, boxer shorts, trunks and types of swimwear.
It is indeed difficult to challenge the traditional belief. One faces lot of hurdles. Frank Dandy designers too faced this problem when they launched the brand in the year 2003. But once you dare to take the step, the world follows you. Now, Frank Dandy has become one of the most popular brands in the world for its exclusive designs and unique prints. So, just go ahead and grab your Frank Dandy Royalton Boxer Brief Underwear today!
You can now get this product at our website DealByEthan which offers great discounts on mens apparel!