You always want to have a style statement that is different from others. You don't want to be a part of the crowd, but someone whom everybody would admire. Now, your apparel plays a very important role in making you look different. Your image depends on your brand and the design of your clothing. 2(x)ist reads your mind. This American brand has introduced a wide range of mens apparel that is exclusive and rightly designed to suit your image. The 2xist Contrast Square Cut Tank Top is one product that gives your body a perfect shape and enhances your personality.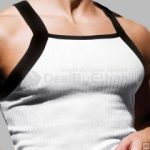 2xist was founded in the year 1991, and from then on has been experimenting with new designs. 2xist Contrast Square Cut Tank Top has a unique cut that tightly clings to the body. It is a part of the new Contrast collection and has become very popular among men. Their square cut tank tops are made from pure cotton (100%) which provides utmost comfort. It is also designed in a fashion that ensures stretch and perfectly fits to the body. The square cut neck designs make the shoulders and the chest quite prominent. Now proudly flaunt your chiselled physique in a 2xist Contrast Square Cut Tank Top! You can get this tank top in various contrasting shades like black/pearl, infiniti blue/java brown, white/black and other shades. This tank top is available in three different sizes – small, large and extra large.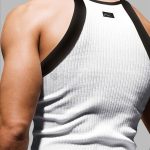 2xist square cut tank tops are worn by many celebs including the celebrated Curtis James Jackson (better known as 50 Cents). It also shows that this brand made various innovations with their designs and always brought forward something new, something different. This is why the famous hiphop artist wears 2xist square cut tank tops. So what are you waiting for? Grab your 2xist Contrast Square Cut Tank Top and get noticed by the world!
You can purchase 2xist Contrast Square Cut Tank Top at oue website DealByEthan that offers exciting discounts on mens apparel!