You always want to be irresistible.You always want to be adored by the world.To suit your style, Allure introduces their new Vinyl Shorts Underwear. It's not just ordinary shorts but exclusively designed to suit today's youth. So, if you are bored wearing your typical shorts, just grab your Vinyl Shorts Underwear. This is the product that can completely alter your looks and make you look great.
This Vinyl Shorts Underwear is designed specially keeping in mind your needs.You want to display your sculpted body, and at the same time be a style icon. You can be an Adonis to be adored by all. This particular kind of underwear is specially designed keeping in mind both style and comfort. The specially designed break away pouch is the main attraction of this product. This pattern helps in retaining the shape, and at the same time gives utmost comfort to the wearer. The pouch style became popular with modern men for whom underwear were not just trivial items but something more.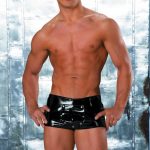 The colour of your apparel enhances your personality. Therefore today's men are extremely cautious when it comes to choosing the shades of their underwear. Nowadays, this particular apparel does not remain hidden inside the folds of your pants but has become a proud item to be displayed above your waist to extract admiration from others. Allure designers have kept this issue in mind. This product is available in the alluring color black – the colour of seduction! The glossy texture simply makes you the most wanted one!
This particular Allure product is available in four different sizes – small, medium, large and extra large. Since it is available in different sizes anybody can get this underwear and be the dashing hero. Gone are the days when not much attention was paid to inner apparel. These were neglected items stuffed in some corner of your drawer. But now underwear has become the most coveted product not to be kept hidden but to be displayed with utmost pride. Allure understands you demands and therefore caters to your needs.
You can purchase Allure Men's Underwear Vinyl Shorts Black at our website DealByEthan which provides exciting offers on many brands and products!