If you have a chiselled physique and are not afraid to show it off, then bikini swimwear should be your most preferred choice of swimwear! Nowadays, this very revealing and sexy swimwear is available in myriad colours, styles and cuts to suit men of all ages as well as to help them to make a bold statement and add a bit of fun factor while lounging around on the beach or by the pool! In the cut-throat men's fashion segment, which is dotted by different and diverse types of brand and their unique designs and styles in men's swimwear, Bayou Beau ranks high in popularity for designing trendy underwear and swimwear for today's dynamic and active men.
Founded in 2010 in Houston, Bayou Beau offers menswear collections ranging from bold colours to classic designs to unique cuts to suit varied dressing sense and style sensibilities. With the aim of providing comfortable and fashionable menswear influenced by Southern culture, Bayou Beau presents customers with choice and a taste of the Gulf Coast in its designer offerings. Apart from bikini swimwear, the brand also offers square cut trunk swimwear, boxer brief underwear, brief underwear and jock strap underwear for men.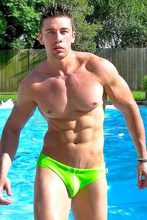 Are you looking for the most stylish piece of bikini swimwear to highlight your super toned abs? Bayou Beau Bay Breeze Bikini Swimwear is the right outfit to sport for your beach or pool activities and will show off your well-toned body at its best! Available in myriad vibrant shades like aqua, black, blue, fuchsia, lime, orange, olive, purple and red, you will be simply spoilt for choice! Designed with white stripes, this low-rise swim brief has a high leg opening so that you can be really mobile. Made from a nylon and spandex fabrics blend which ensures that the swimwear stays in place and feels comfortable too, this swimwear offers excellent flexibility and shape retention to its wearer.  Designed with a full seat for total coverage, Bayou Beau Bay Breeze Bikini Swimwear comes with a contoured pouch lined in cotton-spandex to maximize your support and comfort levels. Feeling extremely comfortable against the skin, this swimwear will not lose its form even after a hectic day of beach activity!
If you need a Bayou Beau Bay Breeze Bikini Swimwear or any other Bayou Beau outfits, simply visit our store today! We feature the widest range of Bayou Beau products and different kinds of fashionable men's underwear, swimwear, loungewear and menswear at best possible prices.