With newer men's swimwear designs making their appearance in the market, it has become possible for body and fashion conscious men all over the world to really experiment with their looks in varied attractive swimwear designs ranging from bikini swimwear to thong or G-strings. This is why square cut trunk swimwear is still widely in demand among fashionable men who love to show off their chiselled physique in these square boxer designs and up the fashion quotient at the beach or poolside. Well known Canadian brand JM is a favourite due to its body flattering designs that really highlight the sculpted physique of the wearer.
Launched more than 30 years ago, JM is a family-run business that specialises in manufacturing high end men's underwear, swimwear and outerwear. Since its inception, this Canadian based menswear brand has been introducing menswear collections that highlights their modern design, sophistication, fit and function. Available throughout Canada, Europe, Mexico and the United States, their designer creations occupy a place of privilege in the highly competitive men's fashion industry. Along with square cut trunk swimwear, JM also specialises in bikini swimwear, boardshorts beachwear, boxer brief underwear, brief underwear, jock strap underwear, long underwear pants, loungewear, muscle top T shirts, short sleeved T shirts, tank top T shirts, shorts, shorts swimwear and thong underwear for today's fashion forward men.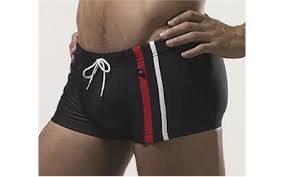 Boasting of a finish of the highest quality and impeccably tailored cuts, JM Swimwear Waves Square Cut 85848 is perfect for varied water sport activities or pool and beach parties! Featuring a white drawcord for safe diving and splashing around in the water, the material used in the construction of this athletic swimwear is a blend of nylon and spandex which helps you to swim freely or enjoy varied water sports without facing any kind of discomfort. Offered in solid black hue, this square cut swimwear features athletic side stripes in red and white to break the monochromatic colour scheme. While the fabric is soft to the touch, the use of such fabrics provides extra support and tightness while remaining stretchable, which is essential in a well-designed piece of swimwear.
In combination with the square boxer design, the spacious front pouch provides your package with the necessary support while providing you with exceptional fit and comfort! Resting snugly on your hips, this low cut trunk swimwear is comfortable clothing that oozes restrained sex appeal and style without being skimpy and revealing!
To purchase this pair of square cut trunk swimwear or any other trendy menswear, swimwear, loungewear and men's underwear at affordable rates, visit DealByEthan today!