Made from different and diverse types of materials and offered in varied styles, cuts and colours, short sleeved T shirts are very popular casual wear that men of all ages swear by. This type of men's clothing is the best when you want to stay cool and comfortable throughout the day and is designed in a way that makes the wearer feel comfortable, free and even better looking because of the cut and style of the T shirt. The one brand that keeps its look modern and striking and which every man loves to sport is Australian based Bonds.
Started by George Bond in 1915 in Australia, Bonds is not just a manufacturer of the best underwear and clothing for men but their products are deeply rooted in Australian culture as well. As a brand that has always believed in making their creations accessible and right for today's modern men, the designers at Bonds are always creating a striking and sexy variety of men's outfits in myriad trend-setting colours and styles. Apart from short sleeved T shirts, the brand also specialises in bikini underwear, boxer brief underwear, brief underwear, long sleeved T shirts, loose boxer shorts underwear, pants, shorts, tank top T shirts and sweaters and windbreakers for men.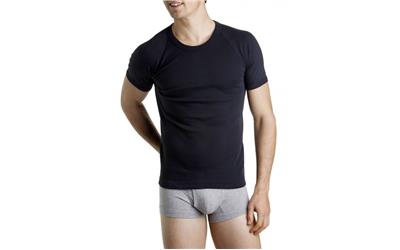 One such men outfit that is both stylistically innovative and hip is the Bonds Original Crew Neck Raglan Short Sleeved T Shirt. Available in four popular colours such as black, grey marle, navy and white, this short sleeved T shirt is a must-have for all fashionable and active men! This is a super comfortable tee in their very popular crew neck design. Made of soft cotton, it is extremely skin-friendly and feels light against the skin. The use of such breathable fabric enables you to stay dry and comfortable all day long, making this tee apt for everyday wear or gym or sports activities. Teamed with chinos or jeans or casual pants, you can also wear one for a casual night out with friends or to your pool and beach parties too! Featuring seamfree sleeves that do not sag after continuous use, this short sleeved is designed to last very long and offer you a great fit all the time!
Providing you with a body-hugging fit while improving your style quotient, the Bonds Original Crew Neck Raglan Short Sleeved T Shirt is excellent to wear when layered with other outer garments, or simply as a top!
If you need a Bonds Original Crew Neck Raglan Short Sleeved T Shirt, visit our store now! We provide all kinds of Bonds outfits and stylish menswear, loungewear, swimwear and men's underwear at attractive rates. Visit us today!