Woodiees brand of underwear for men is truly unique for they are crafted using environmentally friendly fabric. While most of the brands believe in using cotton to design underwear, Woodiees has a different take on menswear. Woodiees underwear is crafted from Tencel, which is essentially an eco-friendly fiber that is made from wood. Woodiees is available in three distinct styles, including brief underwear, boxer brief underwear and Loose Boxer shorts underwear.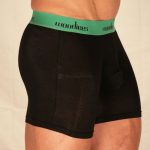 Men who have a sensitive skin will benefit from Woodiees to a large extent for it is made from a wood fiber fabric that is soft and smooth at the same time. The brand was incepted with the sole intention of offering men some of the most striking, comfortable and breathable underwear concepts using fabric that does not ill-affect the environment. It is quite interesting to note here that Woodiees contributes its bit to the environment by reducing the usage of water and environmental footprint to an extent of 75%. Men who have developed a fondness for Woodiees do not feel like returning to cotton or any other fabric (or for that matter brand of underwear) at all.
Woodiees underwear never rides up, so the wearer gets to slip into underwear that is both comfortable and breathable at the same time. Whether the wearer is planning to slip into a boxer brief or plans to get into boxer shorts, Woodiees can provide you with impressive designs, cuts and patterns that are incredible for sure.  The material used for designing Woodiees range of underwear is of the highest quality. The wearer will feel as if he is wearing next to nothing underneath his pair of jeans or pants.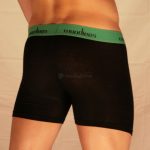 The product that is being discussed here is the Woodiees Eco Friendly Tencel Boxer Brief Underwear Black. This particular design is for those men who do not wish to reveal much of their private parts and like it covered and secure. Woodiees boxer briefs are comfortable and offer the required amount of support. A hint of Spandex has also been used for designing the underwear that offers a great deal of support. Its pouch offers a lot of room, and is cut perfectly well. It features the brand's signature green waistband which makes the underwear look all the more unique and different. It is crafted from the wood pulp of the Eucalyptus tree as well as micro fiber, and feels extremely smooth and soft.
You can find Woodiees Eco Friendly Tencel Boxer Brief Underwear at our website DealByEthan that offers exciting discounts on a range of menswear brands!