You always have fun in finding an outfit that is unique and different from the rest. First, it makes people turn their heads to admire your choice and second, you feel good in finding yourself apart from the crowd. To meet your requirements, Dirty Fukker, a brand from London, has brought forward trendy Dirty Fukker Newsprint Brief Underwear! Unlike ordinary briefs that are available in typical shades, this brief underwear has an exclusive print that is immensely eye-catching. Any man who cares about the latest trends and changing fashion will grab this underwear, once he sets his eyes on it.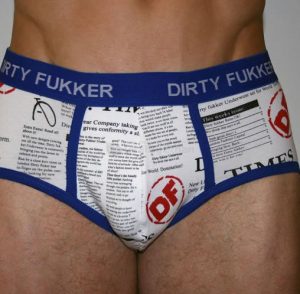 This particular brief underwear is designed with piping trims in contrasting colour, which makes the brief even more appealing. It is provided with a broad waist strap that gives support and ensures adequate tightness. The presence of the brand name on the strap gives you a chance to reveal this strap from under your pants. Excessively modish and trendy underwear- the credit for creating it obviously goes to the ace designers who have put in a lot of effort to make this brand as well as this product popular among men.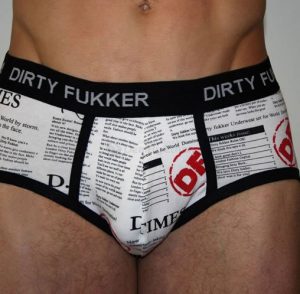 To ensure maximum comfort, the designers have used premium fabric for creating this underwear. The fabric that is used for making this brief underwear consists of combed cotton (92%) and Lycra (8%). Cotton keeps you comfortable all the time and protects the skin from rashes and other skin infections. Lycra ensures stretchability and elasticity of this underwear. Available in different sizes and a variety of colors like red, blue and black, this brief underwear is what you need to be fashionable as well as comfortable.
A well-known brand from London, Dirty Fukker designs different stylish menswear like boxer brief underwear, brief underwear, jock strap underwear and beanies. The brand is popular for its innovative designs and exclusive collections.
You can find Dirty Fukker Newsprint Brief Underwear and other fashionable menswear at our website DealByEthan. Our website offers nice discounts on different men's underwear, men's loungewear and other mens apparel.