When one talks about men's underwear, old-fashioned long-johns, white briefs or perhaps boxers with fun patterns come to mind. Yet, like all other men outfits, even brief underwear is a popular underwear style that is always reinventing itself with new cuts, fabrics and styles. This is because the common man is no longer looking for some boring piece of fabric to keep his package in check; he wants more style from his undergarment.
One such brand that fulfils very well this need of modern man is Bum-Chums. Started in 2009 in the United Kingdom by Craig Hendry and Gareth Dickinson, the aim of this designer label is to provide fun, comfortable and profile enhancing men outfits in place of dull and loose menswear. Creating designer underwear for men in a variety of styles and colour palettes, Bum-Chums outfits are meant to provide their wearers with a sense of confidence – no matter what the occasion! The brand's modern design and cut choices truly provide a range of use whether you are looking for some good athletic or stylish menswear. Along with brief underwear, Bum-Chums also specialises in designing stylish bikini swimwear, boxer brief underwear, jock strap underwear, muscle top T shirts and thong underwear for men.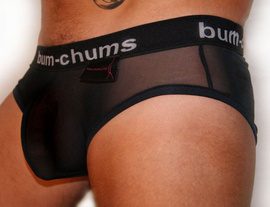 To experience the "bum-lovin" feeling of their creations for yourself, get yourself some Bum-Chums Sneak Peek Brief Underwear BCB24 today! This designer brief underwear is crafted for male underwear lovers who prefer fashionable but functional undergarment. Providing the ideal blend of modesty and suggestion, the low-rise design style and the broad waistband of this brief enables it to sit comfortably on your hips while distributing pressure evenly. While the brief provides a body-hugging but stretchable fit, the light and airy fabric feels comfortable against the skin. To further elevate your comfort and support levels, the contoured pouch design keeps your package in place whilst augmenting your masculine appearance.
Like all the other Bum-Chums products, the labels are on the outside of the garment so that you do not experience any kind of irritation in the hollow of your back and carry on your activities with ease and confidence. Designed to display your masculine features in a fun and sexy way, this see-through black underwear is perfect for men who take pride in what is underneath their clothes!
To get your hands on a pair of Bum-Chums Sneak Peek Brief Underwear BCB24, simply visit DealByEthan! Drop into our store and try out our assortment of Bum-Chums menswear or other stylish men's underwear, swimwear and loungewear today!