If you need a serious boost of ego then Svenjoyment underwear is for you! Wearing Svenjoyment underwear will make you look and feel like never before! Their designs and styles are adventurous and bold and meant only for those who can actually handle them! In fact, each pair should come with a label of 'handle with care'!! No matter what your requirements and tastes, you are sure to get what your heart desires! This is not just a belief but a promise!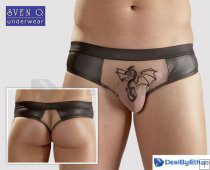 Svenjoyment underwear is reputed for being daring and naughty. The vast range of underwear that the brand produces includes boxer briefs, bikini underwear, briefs, jock strap underwear, g string underwear, pouch underwear, thong underwear and swimwear, square cut trunk swimwear, etc. Other kinds of apparel that the brand manufactures are shapewear, bodysuits, muscle top t shirts, long sleeved t shirts, pants, short sleeved t shirts, short sleeved shirts, tank top t shirts, etc.
The boxer brief underwear is available in various ranges like glitter cut out, metallic push up, pilot, anchor power net, croc foil swell, mix net, waiter zip, retro cut, etc. The material used for this underwear depends on the range and individualistic style! Some of the common fabrics used are lace, net, spandex, polyester, polyamide, etc. The variety of styles that you get to choose from will surely blow your mind! In fact, the sheer genius of each style will leave you breathless!
Even their G strings have many varieties and you will be left spoilt for choice! The varieties will leave you wondering whether the modest G string can really boast of such styles but believe me, in the hands of Svenjoyment underwear, the modest G string does not actually remain so modest after all! There are features which push up and give a great appearance to your jewels.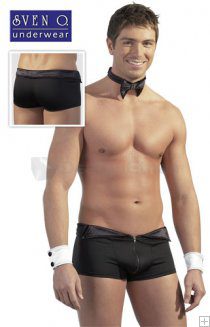 The jock strap, although meant for some serious utility, does not fail to create a sense of fun with Svenjoyment underwear. The colours used and their combinations make the serious utilitarian concept fun!
The pouch underwear has minimal textile but maximum effect! It is not only low cut but made of transparent netting. Its swell function creates a prominent bulge! Thong underwear by the brand even has a snap front along with unique use of patterns and colours!
What are you waiting for? Visit Deal by Ethan today to look at the collection of Svenjoyment underwear!!