Red Dog is a Turkish brand which is not only known for its different styling and use of patterns and colours but also for the fact that its products are made from organic cotton that has been certified by SKAL. The dyes used to achieve the beautiful colours of this sportswear are eco friendly and low impact that cause less harm to the environment. The methods and ideology of the company inspires farmers to learn and grow superior quality cotton which does not affect the environment in a harmful way.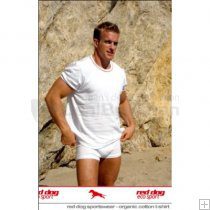 Red Dog Sportswear manufactures short sleeved t shirts, brief underwear and boxer brief underwear. The boxer briefs are called Eco-Sport and those who are into being environmentally friendly should get a pair of these! The fit is athletic and highlights the best aspects of a man's physique and in case you want a relaxed fit, you can simply order one size bigger! The cotton used is super soft as well as comfortable due to the fact that the cotton has been grown without the use of pesticides or chemicals.
The brief underwear is also made of cotton that is 100% eco friendly. Due to the restriction in using pesticides and chemicals the cotton is skin friendly as well so you may be rest assured that your skin also will remain safe when you don Red Dog Sportswear.
The t shirt manufactured by Red Dog Sportswear is luxurious and soft. No compromises have been made on the material factor and it has always been their priority to ensure that the cotton is soft and of the best quality! The apparel that they design and manufacture is in general white coloured to ensure the environment is not affected in any way! The fit is perfect and you can be assured on that front as well!
This season, Deal by Ethan is offering great deals and discounts on Red Dog Sportswear, which should come as no surprise for their loyalists! When you buy any Red Dog Sportswear apparel you will get a discount of 3%! There is more, much more! There are multi packs available for Red Dog Sportswear! There are packs of 3 for each of their apparel and on these you can actually save up to 19%!! Yes, you heard it right!
So what are you waiting for! Visit Deal by Ethan today and grab a pair before they all disappear!!