Haster underwear is one underwear fashion brand that was introduced in the year 2009 and since then, this Polish company has carved out a place for itself, differing from all other brands with their simple but sophisticated selection of underwear styles and the use of environmentally friendly and high quality materials and fabrics used to give maximum comfort to the wearer!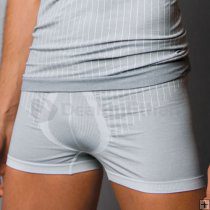 The various articles of clothing manufactured and produced by the brand include boxer brief underwear, g string underwear, brief underwear, long underwear, long sleeved t shirts, muscle top t shirts, square cut trunk swimwear, short sleeved t shirts, tank top t shirts, etc.
The boxer brief underwear of Haster is sold in two varieties of materials and fabrics used- 100% cotton and 100% microfiber or supplex. The general shades of men's underwear from Haster are shades of grey, black and white.
The main features that are noticeable in all varieties of Haster underwear is the fact that it is seamless, offering non stretch support, free moving flexibility and flawless comfort. The materials used for Haster underwear deserve special mention! The material supplex helps you stay dry and cool as the process of drying is faster than ordinary cotton. However, the feel is just like cotton. In fact, they do not shrink or crease and their colours stay intact despite repeated washing. Their full breathability, fast drying nature and ability to hold shape make them a popular choice as sportswear.
Some of Haster underwear is thermo-active, which gives high functionality and makes you feel good even in the harshest situations and weather. The material helps in transferring moisture and sweat away from your skin effectively and helps the skin stay dry!
The microfiber used stays long-lasting, fresh and hygienic due to the fact that it has been treated with sanitised antimicrobial treatment, which helps in the prevention of bacterial growth and helps you stay fresh even after a long hard day full of vigorous activities. It is also lightweight, soft as well as quick drying.
Haster underwear for men offers the best fit and resists deformation, helping you to provide the best and most comfortable fit that flatters your physique. Haster underwear is very durable and does not provide any uncomfortable chafing, thereby improving your performance in the field!
To take a good look at the entire range of Haster underwear, visit us at Deal by Ethan today!