The apparel by Gabriel Croissier is produced in Barcelona and neither quality nor design are compromised. They are made with extreme care and special attention. The designer has various kinds of collections like Utopia, Atlantic Paradise, Collage, Dreams, etc. inspired by various mediums.
The variety of his underwear styles are worth noting and there are some that are extremely low cut while some others are super high cut as well! So, no matter what your preferences, you are sure to find the underwear style that you like! The strong creativity, along with the superb finish of the underwear and swimwear mark the notable features of this brand of underwear. The raw materials and fabrics used are of high quality, and Italian and Spanish in origin.
Gabriel Croissier produces bodysuits, boxer brief underwear, bikini swimwear, jammer swimwear, brief underwear, tank top t shirts, square cut trunk swimwear, etc.
Gabriel Croissier's bikini swimwear is nothing short of art! The material used is a mix of 20% elastane and 80% polyamide, and this blend is used to perfection to craft unique pieces of clothing that give off different effects. They may be plain or even come in a reptile skin-like effect.
The boxer brief underwear from Gabriel Croissier comes in vibrant colours with a wide waistband. The material used is a mix of 8% elastane and 92% polyamide.
The brief underwear comes with a black wide waistband. The pouch comes printed with an emblem (like a cross or stars).
The square cut trunk swimwear of Gabriel Croissier comes in a variety of prints and patterns that truly reflect the Spanish taste for colour and vibrancy!  The material used is a mix of elastane and polyamide, which makes the swimwear breathable and extremely comfortable. Each variety of swimwear has different effects.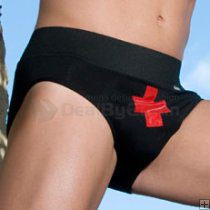 The Gabriel Croissier bodysuit also comes with a variety of different patterns. If you want to portray the animated side of your personality, select the Aquatirantes bodysuit or if you want to look and feel sexy, choose the Reptiltirantes one. The material used is a blend of 20% elastane and 80% polyamide.
Nobody comes close to Gabriel Croissier with their beautiful mix of different colours, patterns and embroidery on the pieces. So, when you choose Gabriel Croissier products you can be assured that you are going to look special and different from the rest of the masses.
Visit us at Deal by Ethan today to take a look at the entire collection of Gabriel Croissier!