Men's underwear can be the ideal way to excite the senses of your partner as well! Excite believes in not only the utilitarian aspect of men's underwear but also in it being sexy too! The styles and types of exciting underwear that the brand produces are sure to excite all! The designs are unique and aimed to titillate the senses.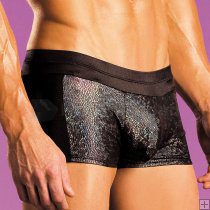 Excite manufactures styles like jock strap underwear, boxer brief underwear, thing underwear, pouch underwear, etc.
If you want boxer brief underwear from Excite then you will get multiple options. You can opt for solid coloured ones, printed ones or ones which play peek-a-boo with your senses! One of the styles has holograms in multicolour- a surely different and unique thing! You can also opt for their fishnet shorts which do not reveal all, but merely give you the illusion that you can! There is another pair of boxers to choose from that has a panel of opaque material at the sides and at the front, while the rest is made of fishnet or mesh.
The jock strap underwear produced by Excite not only helps in protecting your sensitive areas from shock or injury but it also acts as a fine piece of fashion as well. It is made of a sheer material and is striped. The stripes lend the underwear an illusion of whether anything is actually visible or not!
Excite's pouch underwear comes in a variety of colours and prints. You can opt for solid coloured ones as well as printed ones. The materials used are varied, like leather, velvet, vinyl, etc. They even come with straps that are made of metal chains which add to the oomph factor of the clothing!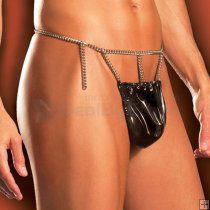 Thong underwear of Excite also comes in a variety of prints, colours, styles and materials. Materials like velvet and fishnet are used to craft the various styles. There are O ring accents to provide superior support and comfort to the wearer. There are prints like tiger and jaguar that reflect the animal or feral side of man!
The variety and appeal of Excite underwear is sure to get you off your feet! Visit us at Deal by Ethan today to take a look at the entire range of Excite underwear. What's more! You can also take advantage of the offer by Deal by Ethan. You can save up to 3% on each article of Excite underwear you buy now! Hurry!!