Rimba is a European company which manufactures all kinds of men's underwear and is synonymous with erotic and sexy lingerie and other articles of clothing. So if you want to stand out in a crowd or simply want to impress that special someone, then the unique range of Rimba underwear and other accessories is perfect for you.
Rimba was found as early as the year 1971 and has maintained its reputation for manufacturing unique range of men's underwear ever since. The founder of the brand was actually a very successful businessman from southern Netherlands. Since that time, the company has spread its tentacles and reached out to many different place and countries of the world.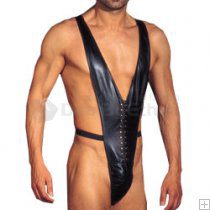 The company manufactures erotic body suits for the male who wants to impress his partner. The body suit is made of genuine leather and there is the facility of a zip which helps in the putting on and getting out of the bodysuit. The elastic in the body suit makes only one size of the garment suitable for people with different body shapes and sizes.
The brief underwear manufactured by Rimba is made of leather and rubber and is available in several erotic choices. There are choices like rubber secrets peni pants, rubber secrets open brief underwear, leather studded brief underwear, leather brief underwear with straps, leather brief pouch with zip underwear, leather brief with open front underwear and even plain leather brief underwear.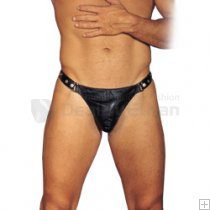 You can also opt for their leather g string underwear. The leather used in all their underwear is super soft and the g string has straps which can be adjustable for a waist that is up to 40 inches. It also has press stud details.
Rimba also manufactures accessories like a leather strappy body. The string is made of genuine leather and the body harness is made of straps. There are buckles in the apparel which can be adjusted to give the perfect fit to the wearer.
The vests manufactured by Rimba are great as well. There are two kinds- rubber vests and leather vests. They are available in the shiny and matte varieties.
You can also get hold of their shorts underwear which is made of neoprene that is 100% natural, giving you the perfect fit and you can even change and cut the product according to your preference. The material is in fact resistant to UV and chemicals.
Get Rimba – get unique. Check out our Rimba collection now!