Shorts were designed with the sole intention of providing utmost comfort to men. When shorts came into vogue, designers hardly paid any attention to their design. What else could be expected when this attire was designed for casual purposes? However, with the passage of time, many renowned and eminent designers realized that comfortable apparel like shorts should be made more stylish and fashionable so fashion-conscious individuals would love wearing this outfit. Among the talented individuals who experimented with shorts, the name of Girish Karnani and Parth Sharma are noteworthy.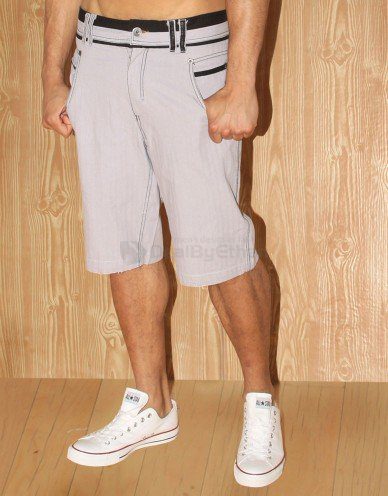 The founders of the popular brand 191 Unlimited, these two men actually designed some stylish menswear that soon found the way into mens wardrobes. 191 Unlimited was started in 2002. Both the designers believed in using premium fabrics for designing outfits that would simply elevate the comfort level of any individual. This brand produces a vast array of men's garments like long sleeved shirts, long sleeved T shirts, short sleeved shirts, short sleeved T shirts, shorts, pants, jackets, and coats etc. While designing each item, these designers have put in a lot of effort to create the trendiest and classiest outfits that will simply enhance the looks of any man.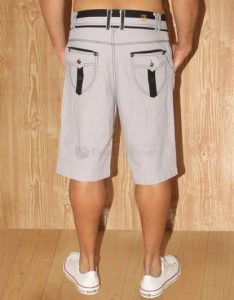 Looking at the 191 Unlimited Cruise Control Shorts, one can make out the utmost effort and excellent craftsmanship that has gone into making this apparel which not only elevates the wearer's comfort level but also add to his manly looks. These light grey coloured shorts, contrasted with black stiches and the patches and pattern, make these shorts chic and trendy. These shorts have been designed with a 12 inch inseam. The fabric that is used for making these shorts is pure cotton. Cotton not only provides comfort but also protects the skin from itching and other skin infections. Thus, these shorts can be regarded as perfect summerwear. Whether you are relaxing or partying with friends, these shorts are your ideal companion.
You can find these 191 Unlimited Cruise Control Shorts at our website DealByEthan, which offers great discounts on different stylish menswear, men's underwear, swimwear and men's loungewear as well.