It is important to put on the right kind of swimwear in order to flaunt your well sculpted body in an attractive manner. To cater to the bold and adventurous men of today's world, there are a wide variety of swimwear styles and cuts on offer from leading swimwear brands. Image and body conscious men are no longer afraid to show off their bodies in exciting skin revealing styles of swimwear like bikini, thong, G-string and square cut trunk swimwear. Jor is one of the well known men's swimwear brands that men of all ages trust when it comes to square cut trunk swimwear in a boxer style. When it comes to looking and feeling good in a boxer swimwear, Jor ranks high in popularity among men all over the world.
Based in Colombia, Jor is a popular men's underwear and swimwear brand founded by Javier Ortega in 2000. Being the ex- creative director of another well-known underwear brand, Gigo, Ortega had a clear idea of the discriminating taste of today' s active men. With the aim to create men's apparel that is not only functional but allows men to express his masculinity as well as feel sexy, Ortega succeeded in creating menswear that encompasses the vibrant spirit of Latin America. The brand's other popular men's creations include bikini swimwear, bikini underwear, boxer brief underwear, brief underwear, G string underwear, jock strap underwear, long boxer brief underwear, shorts, and tank top T shirts.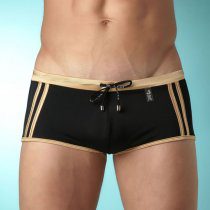 Flaunt your nicely buffed body in some Jor Sport Gold/Black Boxer Swimwear at your next pool or beach party! Designed to show off your sculpted body in the most alluring manner, Jor Sport Gold/Black Boxer Swimwear is perfect for those who want to attract amorous glances from people at the beach or at the pool! The materials used for crafting Jor Sport Gold/Black Boxer Swimwear are nylon (84%) and spandex (16%). The use of nylon and spandex or elastane allows the low rise swimwear to retain its stretch ability and flexibility, allowing you to enjoy your water sports without facing any kind of uneasiness. The drawstring waistband provides added support and tightness to this body fitting boxer swimwear. The contrasting gold waistband, stitching and border emphasises the black fabric perfectly.  Apart from this, other interesting colour combinations that the Jor Sport range of boxer swimwear is available in are Gold/Green, Silver/White and Silver/Blue.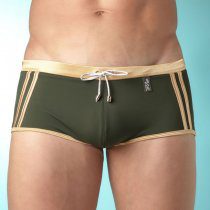 If you need some Jor Sport Gold/Black Boxer Swimwear, you can get it from DealByEthan, where you can also find a variety of stylish and voguish men's underwear, swimwear, loungewear and menswear at great discounts!