Track pants have evolved from simply being sportswear into a trendy and fashionable garment that is a staple in the wardrobe of every fashion forward man. The reason behind the immense popularity of these casual pants is that they are highly comfortable and suitable for both athletic activities and simple household chores. Available in all kinds of colours and made from the best moisture wicking materials, they are no longer loose fitting but come in body fitting cuts and styles. Among the many brands that manufacture track pants, no one does it better than 4-rth!
Pronounced "for earth" and located in Los Angeles, 4-rth is a well-known menswear brand that was started by Doug Donehoo, who left his banking job to pursue his passion of protecting and saving earth from further degradation. With this aim in mind, he began manufacturing voguish and stylish men's apparel using environment friendly fabrics because he believed that the unnecessary and unwarranted use of synthetic materials was destroying the planet.
Being widely popular for its vibrant yoga apparel, the brand's highly functional and well fitting track pants or yoga pants are one of their many sustainable and eco-friendly men's outfits that are a rage among fashion conscious men. The other products that the brand specialises in includes bikini swimwear, boxer brief underwear, brief underwear, long sleeved T shirts, pants, short sleeved T shirts, shorts, shorts swimwear, sweater and windbreakers and tank top T shirts.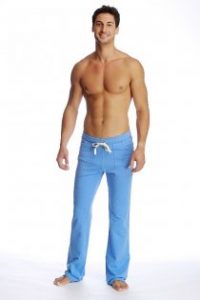 If you want to look stylish without harming the environment, replace your old track pants with some new age 4-rth Eco Track Pants in an assortment of bold and vibrant shades. You can have them in solid and bright colours like ice blue, sun orange, heather grey, royal blue and cinnabar (red). Alternatively, they are also available in combinations of black/cinnabar, grey/white, cinnabar/grey and many more colour options.  Made from top quality and medium-weight Modal materials, these sweat pants or yoga pants are ideal for your rigorous gym sessions and all kinds of strenuous activities. Featuring a flex waistband and elasticised drawcord, these yoga pants fit the body perfectly without looking baggy. The 2×1 RIB hemming at the sides and the top back portion ensures all day firmness and flexibility as you perform your strenuous activities.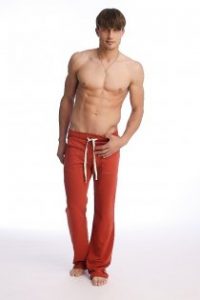 Being highly sweat resistant, these pants are suitable for everyday use as they help you to stay cool and comfortable for long periods of time. The pant's soft and silky fabric will make you want to have them on the entire day! Wear them with your slim-fitting tank top T shirts or short sleeved T shirts while you lounge around or run out for errands.
Place your orders today for a pair of 4-rth Eco Track Pants! Have a look at the wide array of 4-rth eco-friendly men's apparel offered by us at DealByEthan! Get trendy menswear, loungewear, swimwear and men's underwear at the best possible prices – check out our store now!