A tank top is a common variation of a T shirt that is never out of fashion. It is a wardrobe essential for many fashionable and image conscious men of today. Constructed as a T shirt, tank top T shirts do not have sleeves but thick shoulder straps. While these light and comfortable T shirts are preferred by men as their essential gym clothing, they are also used to give a slim-fitting appearance to their bodies. Available in both round and V shaped necklines, they are highly versatile; you can wear them beneath your outer garments or just pair them up with your casual pants or trousers and strut around looking cool and casual!
Based in Chile, Arroyman is a leading menswear brand that always delivers sensual and masculine outfits for today's body-conscious men. Offering exceptional comfort, style and fit, their sensual designs are meant to flatter the male physique and are meant for those sexy and fashionable men who want to stand out from the crowd. Besides tank top T shirts, Arroyman is also known for producing bikini swimwear, bikini underwear, bodysuits, boxer brief underwear, brief underwear, G string underwear, jock strap underwear, long sleeve T shirts, loungewear, Muscle top T shirts, pants, pouch underwear, short sleeved T shirts, shorts, square cut trunk swimwear, sweaters and windbreakers, thong swimwear and thong underwear for men.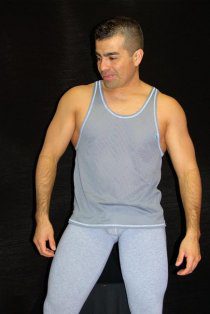 To make a style statement in your gym clothing or to simply look cool and care-free in your casual wear, opt for an Arroyman Muscular Mesh Tank Top T Shirt instead of your dull and boring tank top T shirts today! Offered in grey and orange colour options, the Arroyman Muscular Mesh Tank Top T Shirt is constructed from top quality polyester material and features a racer back cut and contrasting trim. The soft but stretchable mesh fabric ensures that the T shirt fits you like a glove and does not make you look baggy. Extremely light and airy, this versatile T shirt is designed to elevate your comfort level while you do your round of weight-lifting and aerobic exercises.  Stylishly simple, Arroyman Muscular Mesh Tank Top T Shirts are perfect for showing off your manly physique at the poolside or for lounging around at home.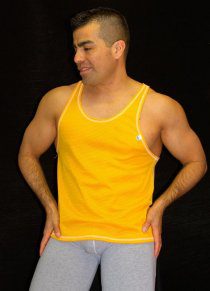 Are you interested in buying some Arroyman Muscular Mesh Tank Top T Shirts? DealByEthan is the right place to buy Arroyman Muscular Mesh Tank Top T Shirts or different types of menswear, swimwear, loungewear and other men's underwear at discounted prices.