Among the various underwear styles available, thong underwear style is extremely popular among men of all ages due to its long track record of offering functional and practical support to the wearer. This kind of underwear is made up of a narrow piece of cloth that is connected to a waistband on the front that passes through the legs and is connected to a band on the hips. Though they are revealing, they offer maximum comfort and flexibility during the hot summer months. At the same time, thongs are being preferred over other types of men's underwear as they allow the wearer to make a bold style statement with their underwear. The leader in the sexy men's thong underwear market is the popular menswear brand Gregg Homme.
Established in 1987, the Canadian menswear brand Gregg Homme is known for its daring and bold styles of men's swimwear and underwear collections. This renowned fashion label prides itself for producing innovative and audacious creations without compromising on quality, designs and fits.  Through the use of advanced technologies and interesting raw materials, the Canadian menswear brand strives to create unique and exquisitely designed yet comfortable men's outfits that celebrate male sensuality.
To give a boost to your macho looks, try out Gregg Homme Baller Thong Underwear for a change. Available in four popular masculine colours: black, white, grey and purple, their thong underwear possesses all the distinctive qualities of high-end designer underwear without being too flashy. The material used for making this thong underwear is a durable and lightweight hyperstretch fabric that not only makes you look good but feel good too!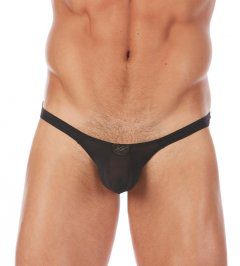 The semi-transparent fabric of the underwear, consisting of polyamide (85%) and spandex (15%), is designed to adapt to your every bodily movement while providing your package with optimum support and comfort. The centre-seamed contoured pouch, which ends in a Y shaped back, acts as a natural support to your assets and always accents your curves in a highly alluring and attractive manner. With the Gregg Homme logo prominently displayed on the elastic waistband, you can show off your innerwear in style and make a bold style statement with your thong!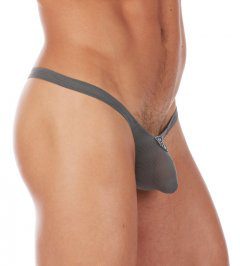 Apart from thong underwear, Gregg Homme offers accessories, bikini swimwear, thong swimwear, jock strap swimwear, square cut trunk swimwear, bodysuits, loungewear, G string underwear, jock strap underwear, boxer brief underwear, brief underwear, long boxer brief underwear, loose boxer shorts underwear, long sleeved T shirts, short sleeved T shirts, tank top T shirts, muscle top T shirts and pants for men.
To get your hands on a sexy and daring Gregg Homme Baller Thong Underwear or any other Gregg Homme outfit, visit DealByEthan today! Check out a wide range of stylish menswear, men's underwear, swimwear and loungewear at amazing prices on our online store!