The men's underwear segment has now become dotted with numerous fashion brands that offer uniquely designed and wide variety of underwear styles to cater to the varied needs of today's fashion oriented and dynamic male population. Besides traditional briefs and boxers, underwear styles for men have now expanded to include styles like thong underwear, G string underwear, bikini underwear, pouch underwear, jockstrap underwear and long Johns or long underwear pants.
Known to offer utmost comfort among all types of underwear, long underwear pants are the most preferred choice when it comes to staying warm during the cold winter days, and there are some long Johns that can be worn during hot humid days too. Among the various high-profile brands that offer chic and stylish long underwear pants, Frank Dandy has made a name for itself for offering exciting and glamorous long Johns for the discerning man.
Established in 2003, Frank Dandy is a leading Scandinavian menswear brand from Europe. Well known for their fun and vibrant prints, patterns and colours, the aim of this fashion label is to provide an interesting and stylish alternative to dull and boring monochromatic underwear options that are available in the market. Each of their products is distinctive and innovative in nature but the materials used, fit, and attention to detail always remain the same. Besides long underwear pants, Frank Dandy also specialises in creating boxer brief underwear, brief underwear, loose boxer shorts underwear and shorts swimwear for men.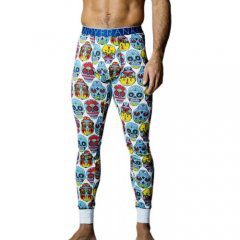 Like their other designer products, Frank Dandy Cavaleras Cool Skull Print Long Underwear Pant is a stylishly and innovatively designed long John. Featuring unique skull patterns in different shapes and colours, this multi-coloured long underwear pant is ideal for sleeping or lounging around in. Stylish and trendy, wear this extremely colourful and exciting long John with your trousers or jeans today! Using premium quality material that consists of combed cotton (95%) and elastane (5%), Frank Dandy designers have come up with a soft and supple long underwear pant that offers a fulfilling feel and fit.  While the soft and fine cotton fibres ensure optimum comfort for the wearer, the contoured pouch design of this colourful long underwear pant offers increased support to your package. At the same time, the blend of elastane and comb cotton offers exceptional warmth and comfort during the cold winter months.
Do you want some Frank Dandy Cavaleras Cool Skull Print Long Underwear Pants? DealByEthan is the right place to visit for all kinds of Frank Dandy products or other types of equally trendy menswear, men's underwear, swimwear and loungewear at highly competitive rates!