Muscle top T shirts are tight fitting tees that offer many body conscious men the opportunity to show off their well-sculpted bodies. A variation of the regular T shirt, this form of T shirt is no longer considered only sportswear but has become popular casual wear among men of all ages.  The use of comfortable fabrics ensures that these body fitting muscle top T shirts offer utmost comfort to the wearer. Produced in wide ranging styles and cuts, they come with sleeves or sleeveless and in a variety of necklines such as round neck or V neck or collar necks. The brand that has ushered in a new age in the fashion industry with regards to their muscle top T shirt offerings is the American brand Go Softwear.
Founded in 1996 in Los Angeles, Go Softwear has made a serious mark for itself in the highly competitive world of men's fashion. Specialising in the manufacturing and supply of underwear, swimwear and athleticwear, this world famous fashion label creates men's apparel that is edgy and trendy for image and body conscious males. Besides muscle top T shirts, the brand is also well known for producing bikini underwear, boxer brief underwear, brief underwear, G string underwear, jock strap underwear, loose boxer shorts underwear, thong underwear, thong swimwear, square cut trunk swimwear, shorts swimwear, boardshorts beachwear, bikini swimwear, body suits, pants, shorts, sweaters and windbreakers, long sleeved T shirts, short sleeved T shirts, short sleeved shirts and tank top T shirts.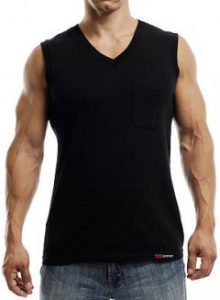 If you are looking for comfort as well as style in your muscle top T shirts, a Go Softwear Pacific Muscle Top T shirt is the right outfit for displaying your fashion prowess as well as your coolness. Along with black, Go Softwear Pacific Muscle Top T shirts are offered in five other popular colours: navy, cadet blue, cardinal (red), olive and charcoal so you can match them with all kinds of outfits.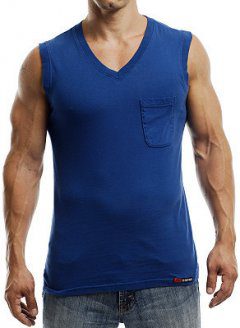 Classically designed to enhance the comfort level of the wearer, the material used for making this sleeveless T shirt is top quality cotton fabric which wicks away moisture leaving the wearer feeling cool and fresh all day long! This piece of clothing is dyed and washed in a special manner to ensure its longevity and rich colour. Ultra light and skin friendly, it sports a V-neckline on the front along with spacious armholes and a smart and trendy chest pocket. Ideal for lounging around or for any kind of strenuous activity, the Go Softwear Pacific Muscle Top T shirt will never disappoint its wearer!
Do you want to stock up your closet with Go Softwear Pacific Muscle Top T shirts? Check out DealByEthan for Go Softwear products as well as other trendy menswear, men's underwear, swimwear and loungewear at pocket friendly prices today!