Though jockstraps are a necessity in all kinds of sports as they offer support and protection to the private parts of the wearer, they have now become fashionable everyday wear for style and image conscious men all over the world. The most preferred brand amongst men when it comes to a pair of comfortable and stylish jockstrap underwear is the Greek menswear line Modus Vivendi.
Modus Vivendi is a world renowned fashion label that was founded by the famous Greek fashion designer, Christos Bibitsos in 1989. Based in Greece, the brand offers wide variety of men's underwear, swimwear, accessories and other types of men's outfits that bear the mark and influence of the Greek culture. Being true to its Latin brand name meaning a "way of life" or "lifestyle", this fashion house is known for its ground-breaking designs and quality clothing that are meant to augment the quality of the active lifestyle of today's men.
Apart from jockstrap underwear, Modus Vivendi also offers armbands and bracelets, bags, accessories, belts and buckles, cufflinks, necklaces and pendants, rings, scarves, towels, shapewear, shorts swimwear, bikini swimwear, boardshorts beachwear, body suits, square cut trunk swimwear, boxer brief underwear, brief underwear, bikini underwear, G string underwear, long boxer brief underwear, loose boxer shorts underwear, shorts, long sleeved shirts, long sleeved T shirts, loungewear, muscle top T shirts, pants, short sleeved T shirts, tank top T shirts, sweaters and windbreakers.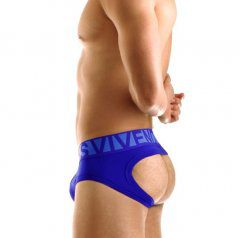 All the lovers of jockstrap underwear must checkout the Modus Vivendi Eternal Bottomless Jock Brief Jock Strap Underwear as this is no ordinary jockstrap! Constructed like a brief but giving you the support of a sport jock, this sporty jock brief is designed to elevate the comfort level of its wearer! It combines with ease the function of a frontal coverage offered by a boxer brief with the backside being left exposed as in the design of a jockstrap. The use of top quality cotton and elastane material ensures that this jockstrap fits you snugly while remaining airy and skin friendly. While the wide and elasticised waistband bearing the Modus Vivendi signature rests snugly on your hips, the rear straps also do not fail to keep its hold on your legs; thereby providing excellent support and comfort to the wearer all day long.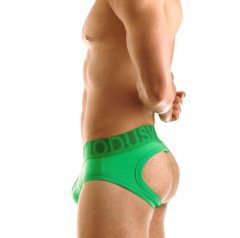 Extremely light and durable, this underwear is perfect for your high intensity workouts in the gym or any kind of sports activities. Besides flaunting your manly physique in a bright and funky blue shade, you can do so in a vibrant and envious green shade too!
If you need some Modus Vivendi Eternal Bottomless Jock Brief Jock Strap Underwear, then DealByEthan is the right place to look! Visit us and have a look at our wide array of chic and stylish menswear, loungewear, men's underwear and swimwear offered at amazing prices!