The market is flooded with different and diverse styles of swimwear for men, providing men with many options to choose from. Among the many popular swimwear styles, bikini swimwear is a much loved and preferred swimwear option among men of all ages.  Although earlier this form of swimwear style was used by sportsmen in their aquatic sports and events, nowadays bikini swimwear is widely in demand by men who want to flaunt their athletic physique.
Pronounced "To Eros" and named after Eros, the Greek God of love and lust; the brand's name actually means "to the God of love". 2Eros's various men's outfits are designed for today's smart and confident men who look for sexy and stylish designs in their swimwear and underwear. The Australian brand 2EROS is the brainchild of Jason Hoeung who wanted to offer fashionable men all across the world apparel that is functional, stylish and unconventional. The speciality of the fashion label is their low cut and form-fitting designs in striking colour choices that are meant to accentuate the chiselled physiques of today's body conscious men. Apart from bikini swimwear, this popular menswear also offers armbands and bracelets, hats, necklaces and pendants, boxer brief underwear, brief underwear, jockstrap underwear, shorts swimwear and square cut trunk swimwear for men.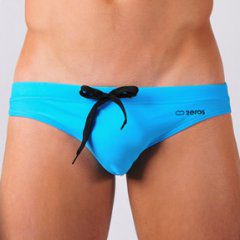 If you are not afraid to show off your wild and daring side in skin revealing and raunchy bikini swimwear, then 2EROS Signature Super Low Rise Bikini Swimwear is perfect for you! The bright blue colour bikini swimwear is made from top quality fabric that ensures you stay cool and comfortable in your swimwear. Designed with your comfort in mind, this bikini swimwear comes with a spacious front pouch that does not fail to provide its wearer with the necessary room and support for his package. The comfort level is further elevated with the use of a soft and supple front lining in place of skin chafing net linings.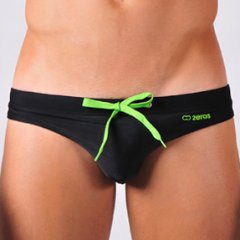 Though the stretchable fabric fits easily and snugly, the use of stylish and usable drawstring ensures that you do not lose your swimwear in the water.  Featuring different coloured drawstrings and matching signature print of the brand for the different swimsuit pieces – for instance black coloured drawstring in the blue swimwear; white coloured drawstring in the red outfit and pink coloured drawstring in the white outfit- this low cut bikini swimwear is the ideal choice for any chic and daring man! The other colour options that the 2EROS Signature Super Low Rise Bikini Swimwear is offered in are red and white.
If you are planning to buy some 2EROS Signature Super Low Rise Bikini Swimwear for yourself, drop into our store today! You will also come across a wide variety of trendy men's underwear, menswear, swimwear and loungewear at amazing prices at our store!