A short sleeved T shirt is one of the many popular men's clothing that every fashionable man must possess in his wardrobe. Men's short sleeved T shirts are available in a variety of styles, designs and colours. Made from a wide variety of materials like nylon, spandex and cotton, they come in two popular neckline styles – V-neck and round neck.
Although the market is flooded with a number of brands that offer comfortable and stylish short sleeved T shirts for men, one brand that has gained immense popularity among the many health and image conscious men of today is Equmen. Founded in 2009 and meaning "Equality for Men", Equmen creates menswear that aims to increase the wearer's confidence levels with regards to how they look and feel through well-made and well designed men's apparel. Because of its cutting edge design and technology, men of all ages, backgrounds and lifestyles have found great comfort and reliability in their creations. Apart from creating ergonomically designed short sleeved T shirts, this technologically advanced brand offers a wide variety of boxer brief underwear, socks and tank top T shirts for men.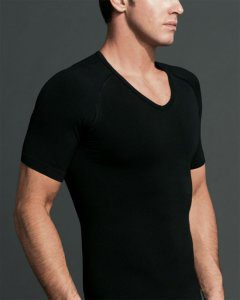 If you want to look and feel great in your short sleeved T shirt, try the Equmen V Neck Short Sleeved T Shirt for a change! Available in basic white or black option, this V neck is ideal as core wear underneath your polo T shirts or button down shirts; you can also wear it for extra shoulder support under any climatic conditions. Apart from providing you a slim- fitting tailored look, it offers many health benefits too! Made from blends of nylon, micro-polyester and spandex, their HELIX-MAPPING technology engineered compressive fabrics and ergonomic designs increase blood flow in the body and improve your overall every day performance.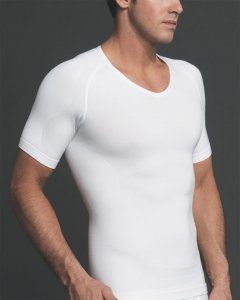 Offering health benefits like posture improvement, elimination of back pain and enhanced blood circulation to the body, their products help in reducing the risk of injury and speed up muscle recovery. Their mesh, moisture-wicking fabric along with the anti-microbial properties of this V neck ensures that you stay dry and comfortable all the time! With its V neckline and science and style fusion design, this T shirt is indeed cool and funky. You can wear it to the beach, night club, fitness centres as well as to casual get togethers.
Do you want to grab a new Equmen V Neck Short Sleeved T Shirt? Visit DealByEthan to get their short sleeve T shirts as well as a range of men's underwear, swimwear, loungewear and other modish menswear at amazing rates!