Whether you are relaxing near the pool after an active swimming session or simply relaxing at home, the 3G Actualwear NIAGARA Robe is the perfect choice! When you carve out a sculpted physique, you become particularly conscious about the outfit you choose. Emerging from the pool with water dripping from your chiselled body makes you look sexy! With such ravishing looks, you surely require an outfit that will enhance your sizzling looks and this particular lounge robe lives up to your expectations.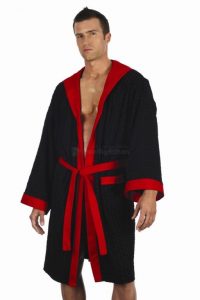 A stylish black robe with attractive red border makes you look hotter. Created from special terry jacquard organic cotton that also features the 3G logo relief, this unique lougewear keeps you at ease and enables you to enjoy your relaxing hours comfortably. Cotton is a quite light and skin-friendly material, so it helps to retain the coolness of your body after a splashing bath. The robe loosely wraps your body, providing enough comfort and allowing you to relax.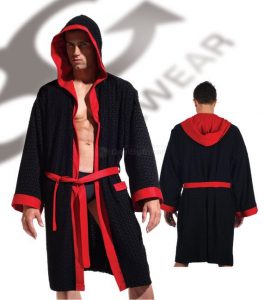 3G Actualwear is a Canadian brand that started journey in the year 2007. From the very beginning, the brand has been concentrating on producing various men's outfit that are not only comfortable by also excessively fashionable. Their leading designers have put in a lot of effort to bring forward exclusive designs that will soon change your style statement. One of the most interesting features of 3G Actualwear outfits is their ever changing and innovative designs. This can be regarded as one major reason behind the popularity of this brand among today's men. Apart from loungewear, this brand also specializes in bikini swimwear, brief underwear, boxer brief underwear, G String underwear, thong undewear, swimwear, muscle top T shirts and other apparel.
What else do you need to enjoy your leisurely hours when you have the trendy 3G Actualwear NIAGARA Robe? Wrap it on your well-toned body and feel its lightness! If you are keen on picking up this lounge robe, come to our website DealByEthan today! Our website also offers nice discounts on fashionable menswear.