Gone are the days, when men used to be satisfied with plain and drab swimwear that had neither style nor a proper fit. A peek into a fashion conscious man's wardrobe proves that swimwear is also considered an essential outfit. Whether you indulge in beach activities or swim around in the pool, your swimming trunks need to be excessively modish. The tight fit and the skimpy design of your swimming trunks should complement your well-toned and curvaceous physique. Just set your eyes on the superbly sexy Sauvage Italian Plaid Retro Square Cut Trunk Swimwear!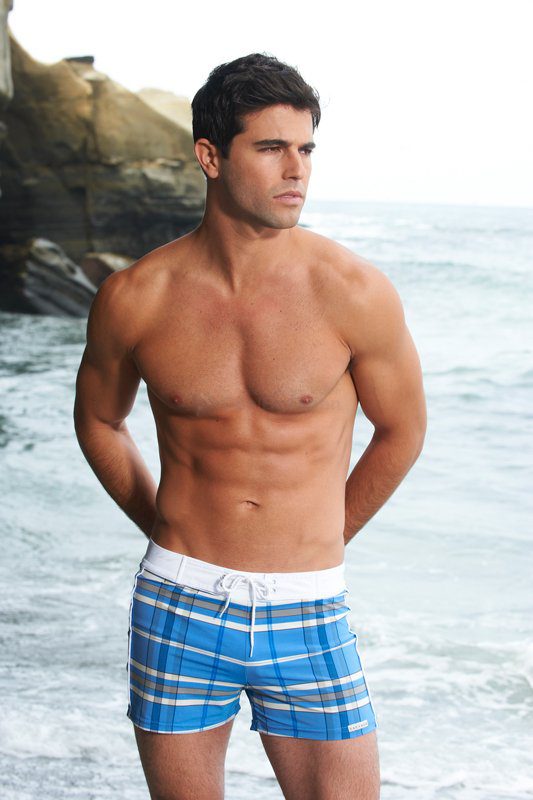 This trendy swimming trunk adequately adheres to the body, retaining your sizzling looks. The chequered fabric with a blue base is ideal beachwear; the blue shade along with blue waters of the sea gives you a cooling effect. The most interesting feature of these trunks is its unique design. It is faux – board with short styling. They are not excessively long enough to prevent beach activities, or excessively short, making you feel awkward. These trunks simply allow you to flaunt your manly body. The presence of a broad waistband provides extra support in the waist area and a drawstring enables you to adjust this costume according to your needs. Now you can indulge in different watersports without being uncomfortable, even for a moment.
Sauvage is a popular brand specializing in different outfits like bikini swimwear, square cut swimwear, shorts swimwear, broadshorts beachwear, boxer brief underwear, loose boxer shorts underwear, shorts, long sleeved T-shirts, short sleeved T shirts, trousers etc for men.
Started by eminent designer Elizabeth Southwood in San Diego, this brand has gained immense popularity in the last few years. Each outfit is crafted from superb quality fabric and the designs are favourites among stylish men. Mostly, materials like Italian micro fiber, lycra and nylon are used in creating Sauvage's swimwear collection. Thus, each item retains its perfect tightness and stretchability. Available in variety of shades, Sauvage is meant just for you!
Are you keen on getting your Sauvage Italian Plaid Retro Square Cut Trunk Swimwear? Just visit our website DealByEthan to grab this swimwear today! Our site offers great discounts on various menswear as well.