Loose and shapeless boxers and briefs are no longer the favourites of style and image conscious men. Nowadays, many well known men's underwear brands have come up with a whole range of stylish menswear and the choices that are available for fashionable men include stylish trunks, g-strings, thongs, briefs and bikini underwear! Even the once functional sports garment, the jockstrap is now being worn as sexy everyday underwear. It is a well known fact that high quality undergarments make their wearer look, feel and fit better, and this is true for jockstraps as well! One such brand that offers top quality and long lasting jockstrap underwear is the Irish brand AMU.
Located in Dublin, Ireland, AMU or Alpha Male Undies is known for making sensual men's underwear available to all fashion and brand conscious men of this day and age with an emphasis on a range of fearless and daring colours along with exciting cuts and silhouettes. With the brand logo "AMU" on prominent display on the front of their wide waistband, this leading menswear brand aims to provide perpetual comfort and seductive and alluring designs to all smart and confident men who want to stand out and look and feel sexy in their undergarment! Apart from their popular jockstrap styles, their Irish line consists of two other popular underwear styles – boxer briefs and briefs – for men. While the underwear creations are designed in Dublin, they are manufactured at a factory in Los Angeles.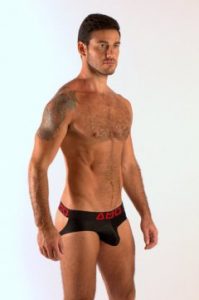 For men who pride value and comfort in their undergarments, AMU Form Fitting Jock Strap Underwear ensures your assets comfortably stays in place all day long! The fabric used in the construction of this popular menswear is a blend of nylon and spandex that ensure you experience a nice stretch along with perfect fit and comfort. Available in popular classic and bold colours namely black, white and red, the soft and smooth back straps provide excellent support to your rear while hugging your legs closely. At the same time, while ensuring your package is firmly in place, the very supportive and contoured pouch design allows strenuous activity while enhancing your masculine chiselled physique. Most importantly, the trendy low cut design of this apparel with the prominent AMU logo on full display ensures that you are able to show off your sexy fit to people around you.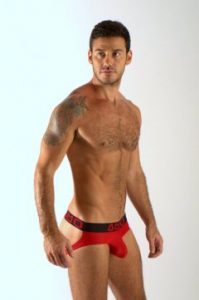 Are you interested in buying some AMU Form Fitting Jock Strap Underwear? Check out AMU's entire collection at our store today to get a huge collection of men's underwear, swimwear, menswear and trendy loungewear at best possible prices!