Those who are conscious about their well-toned, sculpted physique and want to flaunt their bodies at any cost should find some excessively trendy and modish outfits for themselves. In fact, they should pay attention to all sorts of outfits; including swimwear as neglecting any one might spoil their image completely. In such a situation, it is essential to choose the brand carefully. One must find a brand that not only caters to their needs about being fashionable and funky but also creates their outfits from fabrics that elevate the comfort level of the wearer.
Tribe can be considered one such brand that has actually lived up to the expectations of fashionable men. From underwear to swimwear- everything is simply stylish and makes you look sexier and trendier. Tribe is an Australian brand that was started in 2008. By producing some funky and modish underwear and swimwear, this brand has actually found its way into men's wardrobes. Especially those men, who are tired of trying the same old designs offered by other brands and want to try something unconventional and chic consider Tribe to be most suitable. Tribe creates different men's underwear and swimwear like boxer brief underwear, brief underwear, square cut trunk swimwear, bikini swimwear, etc.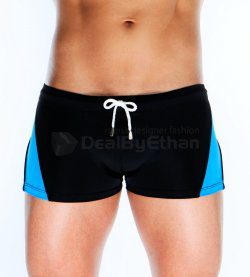 Unlike traditional trunk swimwear that neither has a cut nor fit, Tribe Spliced With Piping Shorts Square Cut Trunk Swimwear is totally different. Created from high quality fabric, this square cut trunk swimwear tightly adheres to the body and allows you to enjoy various water sports without any discomfort.  Neither excessively long nor too short, but just the right size to make you look ravishing on the beach or near the pool. Apart from toggles and adjustable drawstring, this swimwear is provided with a waist strap that has 32mm elastic. This offers perfect tightness and support. To ensure perfect stretchability and elasticity, the leg portion is also provided with high quality elastic. With a unique and attention-grabbing colour combination, this swimwear can become any man's favourite the moment he sets his eyes on it.
Are you eager to grab the Tribe Spliced With Piping Shorts Square Cut Trunk Swimwear? Well, visit our site DealByEthan today! Our site offers nice discounts on various fashionable menswear, swimwear, men's underwear, and men's loungewear.