If comfort is what you look for, then boxer shorts underwear can be a good choice. This type of underwear came into the vogue during the 1930's. Although, initially men hardly paid any attention to this design, it was during the 80's that this design became quite popular among men. One of the greatest advantages of boxer shorts are that they elevate your comfort level. Moreover, the design allows you to wear it under any form of outfit and during hot weather conditions. As the design became popular, different brands started manufacturing boxer shorts and shops were stacked with various designs of boxer shorts underwear. Mojo Downunder is one such brand that created some very comfortable and trendy boxer shorts underwear, which soon became all the rage.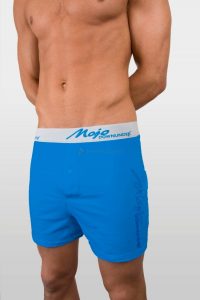 A quick look at Mojo Downunder Solid Loose Boxer Shorts Underwear shows that it the perfect combination of style and comfort. This underwear appears just above the knees and is perfect to be worn under any apparel. It is provided with a considerably broad waist strap with the brand name labelled on it, just enough to enhance your image. The fabric that is used for crafting this underwear consists of cotton (95%) and Lycra (5%). Cotton being soft and breathable, you remain comfortable all the time – even in sweltering heat. Lycra, on the other hand helps to retain the elasticity and stretchability of this underwear. Slip in to this Loose Boxer Shorts Underwear and just relax comfortably!
Started by Adam Rakowski, Mojo Downunder is a well-known line of menswear from Australia. Since its inception, this brand has been producing underwear that not only keeps the wearer comfortable but also elevates his manly image. You can get a wide range of men's outfits from this line like boxer brief underwear, brief underwear, long boxer brief underwear, loose boxer shorts underwear, muscle top T shirts, short sleeved T shirts, tank top T shirts, etc.
You can grab Mojo Downunder Solid Loose Boxer Shorts Underwear at our website DealByEthan, which offers great discounts on various menswear, men's underwear, men's loungewear and swimwear.