Although, thong underwear has been in fashion for a long time, it is only recently, that designers have shifted their focus from the other segments of menswear and started paying attention to the design of this underwear. Their sole intention is to make thong underwear most stylish and sexier so that fashion-conscious men grab it immediately. Without wasting time, different brands flooded the market with latest designs of thong underwear. Among the various brands that produced exclusive designs the name of Pikante is noteworthy. Using high-quality fabric and bringing out some unique designs, this brand immediately became popular among men.
Pikante is a well-known brand creating different menswear. It is based in South America. The word "spicy" is used to describe most Pikante products. One look at the Pikante Blaze Jumbo Drop Waist Thong Underwear tells you why. To enhance your sex appeal, this underwear is made from a fabric that is somewhat glossy. The fabric consists of polyester (93%) and spandex (7%). Both these materials ensure tightness and elasticity of the underwear, enhancing your looks and personality. The elastic waist strap is there to provide proper support. Moreover, the presence of elastic material around the legs ensures the perfect fit and tightness of this underwear. Those men who want to boost their manly physique desire this thong underwear, with its glossy texture.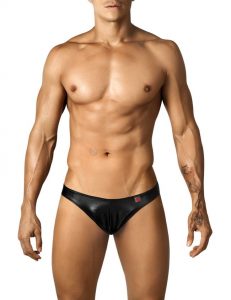 Pikante manufactures very stylish and modish menswear. You can find boxer brief underwear, brief underwear, bikini underwear, jock strap underwear, thong underwear, G-string underwear, tank top T-shirts and other outfits made by this line. Their outfits are designed to suit any well-toned, muscular body, making you attractive in the eyes of people.
Are you keen on grabbing some Pikante Blaze Jumbo Drop Waist Thong Underwear? Well, take a look at our site – DealByEthan. Our site offers great discounts on different stylish and chic mens apparel as well.