Tracing the origin of jockstraps, we find that it was invented during the 19th century. The design provided adequate support and protection to your package, which is why it was popular among bicycle jockeys. However, later jockstraps became popular among sportmen, wrestlers and athletes. With the passage of time, the typical jockstrap was redesigned and reshaped into latest, stylish jockstraps liked by men worldwide. All those brands who manufactured menswear and men's underwear also brought forward some very chic and modish jockstraps that became popular with men right away. It will not be wrong to say that Timoteo is one such brand that has created some very trendy jockstraps.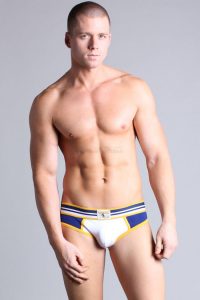 Named after ace designer Timoteo Ocampo, Timoteo is a popular line of menswear from Los Angeles. In the hands of this ace designer the designs of different mens apparel like bikini swimwear, square cut trunk swimwear, thong underwear, boxer brief underwear, brief underwear, jock strap underwear, shorts, bodysuits, boardshorts beachwear, tank top T shirts, short sleeved T shirts, short sleeved shirts, and pants received a new touch and became more stylish and chic. Using the finest fabrics, Timoteo Ocampo designed various outfits that soon found their way into the wardrobes of fashion-conscious men everywhere.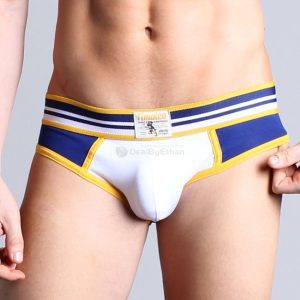 Set your eyes on the Timoteo Rugby Athlete Jock Brief Jock Strap Underwear! The design and the cut are indeed innovative. This jockstrap is ideal for those men who love to indulge in various sports and fitness sessions. A roomy pouch provides maximum support and protection to your package and the broad waist strap along with the leg straps provides additional support and tightness. The fabric that is used in creating this underwear consists of cotton (96%) and spandex (4%). Cotton keeps you comfortable all the time and makes this underwear suitable for exercising. Spandex makes this underwear stretchable and considerably tight. The unique colour combination is indeed attention grabbing, making this jockstrap suitable for your body.
You can get Timoteo Rugby Athlete Jock Brief Jock Strap Underwear at our website DealByEthan. Our site offers great discounts on different fashionable and sexy menswear as well.