A blend of boxers and briefs, boxer brief underwear is apt for fashion conscious men who prefer underwear styles that make them feel comfortable, sexy and confident while covering their rear. Combining excellent coverage with unmatched support, such type of men's underwear is ideal for athletic wear as well as everyday wear. To cater to different fashion tastes, they come in different leg lengths, styles and designs. One such brand that offers comfortable as well as alluring underwear designs is 4Skins.
4Skins Underwear is an Australian based brand that aims to deliver the best in quality and comfortable men's undergarments. Inspired by the unity and diversity of their country, the designers of this Australian brand specialise in creating different and diverse types of underwear for men of different skin colours. To ensure durability and comfort of all its menswear, the brand makes use of quality stretch fabric with a strong emphasis on cutting-edge design leading to clean and crisp lines that accentuate the natural contour of the male anatomy. Exuding a sensual sense of sophistication and style, their boxer briefs are a must have for today's dynamic and active man!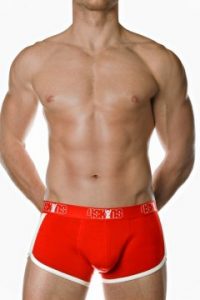 Whether you wear them for your daily runs or simply as ordinary underwear, the sexy sports design of 4Skins Retro Running Trunk Boxer Brief Underwear is ideal for the confident man who loves versatility in his undergarment. Available in vivid red or blue designs with a white contrast found on the edges, the materials used in the manufacture of this trendy trunk is a blend of cotton and spandex. Resembling a pair of running shorts, these low-rise trunks are constructed with a double layered pouch to accentuate your assets in the best manner while providing you with utmost support all day long!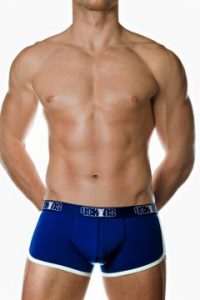 Their low rise cut, trimmed leg openings and side slits at the thighs makes their apparel so comfortable and stylish you can wear it anywhere and however you like! Offering style, comfort and confidence as well as fitting like your second skin, you wouldn't want to take it off. Besides smart and stylish boxer briefs, 4Skins is also well-known for brief underwear for men which you can check out on our site as well.
Are you planning to purchase some 4Skins Retro Running Trunk Boxer Brief Underwear? DealByEthan is the best place to get your hands on a pair of 4Skins Retro Running Trunk Boxer Brief Underwear along with a plethora of smart and trendy men's underwear, swimwear, loungewear and other menswear at amazingly low prices!