Because of their versatile nature and sleeveless design, tank top T shirts offer optimum comfort to the wearer, allowing him to remain calm and relaxed all the time. They are the most preferred choice of clothing and are often worn on a hot summer day or as a top underneath another shirt. Like all other T shirt variations, tank tops are without any doubt the most appealing and trendy casual wear. You can wear them to the beach with your beach shorts or to the gym with your fashionable pair of running trunks to look casual and stylish anytime.
Established in 2005, Barcelona based ES Collection is a brand committed to creating top quality, cutting edge designs using the best production techniques. Boasting of the use of top quality fabrics, their menswear is designed to withstand time. Besides designing hip and cool tank tops, they have a wide variety of products including designer bags, beach towels, bikini swimwear, bikini underwear, boardshorts beachwear, bodysuits, beach towels, boxer brief underwear, brief underwear, G string underwear, G string swimwear, hats, jammer swimwear, jock strap underwear, long sleeved T shirts, pants, short sleeved T shirts, shorts, shorts swimwear, sleepwear, socks, square cut trunk swimwear, thong underwear, sweaters and windbreakers and armbands and bracelets for men.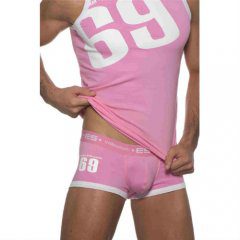 If you want to show off your toned and chiselled physique in colourful and fun tank tops, their funky and trendy ES Collection Tank Top 69 T Shirts are simply perfect for you! Available in pink/white or mint/white combinations, they are definite quality tank tops with contrast trims and printed with 69 on the pink or mint background! Made from quality cotton and Lycra blend, these men's tops provide an athletic fit to the wearer and ensure maximum comfort all day long! The soft and stretchy fabric of their garments gives off a light and airy feeling the moment they are worn, thereby elevating your comfort level during even the most strenuous of activities! With its sleeveless design and round neckline, their tank tops are cool and fun and you can wear ES Collection Tank Top 69 T Shirts to the beach, gym or as everyday wear at home. Team them up with casual pants, chinos or jeans to look cool and casual while showing off your bulging biceps!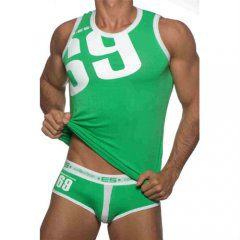 Are you planning to give ES Collection Tank Top 69 T Shirts a try? DealByEthan is the place to search for different sorts of fashionable menswear, men's swimwear, underwear and loungewear at amazing prices!