When jockstrap underwear came in fashion, it immediately became popular among men. Firstly, the design provided adequate support to your package, and secondly, the edgy cut enabled free movement of the legs, therefore proving quite useful for gym-goers and fitness freaks. The unique pouch style also retains the shape of your package, enhancing your manly looks. Since the 19th century, the number of brands manufacturing this particular underwear has really increased. Nowadays, all the popular brands are experimenting with jockstrap designs and bringing out innovative jockstraps that are not only stylish but also elevate the comfort level of the wearer.
Male Power, a popular brand, has been creating unique men's inner apparel since its inception. Ace designers are always striving to provide the best designs that can enhance your hunky-dory looks. The Male Power Herringbone Crochet Jock Strap Underwear is not only trendy but provides utmost comfort to the wearer. The jockstrap is provided with a considerably broad waist strap and leg straps which ensure complete stretchability and tightness. The presence of a spacious pouch provides maximum comfort and support to your package. The fabric that goes in making this particular underwear consists of nylon (85%) and lycra (15%). The presence of these materials ensures adequate elasticity of this jockstrap. Apart from ravishing nude, this particular jockstrap underwear is also available in red and black shades. So, choose your favourite colour and get this jockstrap now! Apart from jockstrap underwear, Male Power also designs swimwear, boxer brief underwear, brief underwear, thong underwear, G strings, T Shirts, tank top T Shirts and other menswear.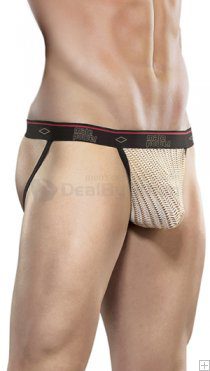 When you choose underwear, you prefer to remain comfortable all the time. The edgy cut of the jockstrap perfectly suits your purposes. The superior quality fabric that goes in making these jockstraps also makes Male Power quite popular among metrosexual men. Moreover, inner apparel that can enhance your looks and alter your personality is necessary for your wardrobe. So grab Male Power Herringbone Crochet Jock Strap Underwear and get ready to be treated like a fashion king!
You can find this product at our website DealByEthan , which offers great discounts on mens apparel!