One of the most important stages of the relationship is the first date. After all, it is the first date that leaves a memorable first impression of the person, and then you can decide whether they are a good match for you and how to make them more interested in you.
Of course, the general appearance has always been of great importance. Clothes should be clean and ironed as well as shoes must be tidy. "You will not have a second chance to make a first impression," these were the words of an iconic French designer Coco Chanel. Clothes are of great importance when it comes to the impression a person makes; they are the first thing that draws our attention regardless of anything else. If your outfit is boring, messy, or doesn't reflect your personality, you will not make a good first impression, and the further communication may not happen. So, gentlemen, in order to make the girl want to meet you again, you must learn some fashion tips.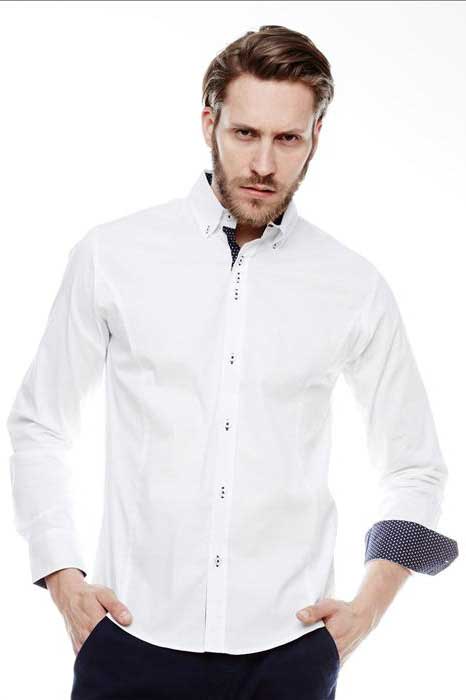 535 single women were interviewed for the survey concerning men's fashion, and the tips mentioned below were summed up according to the results of this survey. The experiment has revealed which details of the male wardrobe are considered to be the most annoying by women.
You should better not wear it on the first date…
The first thing that serves as a sign of a bad style have always been sandals worn with socks; the majority of women disliked them. On this basis, we highly recommend you to wear socks that are suitable for the situation and weather condition. Wear sandals only barefoot, while closed models of shoes should be worn with socks.
Also, almost 84% of females surveyed consider a tracksuit to be not the best outfit to wear on a romantic date. The more sporty styled outfit is appropriate only if your first meeting is going to take place at a gym (which is unlikely to be this way). So men are strongly advised to stick to a sports uniform only when the occasion requires, for example, when going in for sport. Otherwise, it would look completely out of place.
Overuse of jewelry, especially cheap one, will not add a pleasant touch to your overall look either. It is better to choose a simple but elegant model rather than the artsy and frank fake. Elegant and stylish – these may not necessarily be the most expensive ones. Cufflinks from noble metals or an elegant pin for a tie will definitely serve as a sophisticated detail to catch a woman's eye.  Here comes another important advice: the key is in simplicity when it comes to jewelry, so do not think that wearing large or flashy accessories to catch a woman's eye is a great idea; let it be better just a stylish watch or a ring.
Negative attitude was also expressed to jeans with an excessive amount of pockets or over the top detailing. While more classic designs and simple colors, such as plain black, will always complement your look.
Fake brands are a huge no-no. Sometimes men love to wear a T-shirt with the eye-catching brand name, complementing it with "branded" jeans and sneakers. This applies to both women and men: if there is no opportunity to buy original brands, it is better to choose a more budget-friendly option. Fakes are often obvious, and they do not add to your style. Even if you wear brands, you should not show off labels.
In addition, women also frown upon men wearing sharp-nosed shoes or jeans with low waist. They are not in trend nowadays.
What is really flattering?
A classic suit always looks sexy and elegant and makes a statement. However, remember that even if the suit and shoes are chosen with great taste, and everything fits perfectly, such a seemingly insignificant article of clothing as socks can spoil the impression. It is unacceptable to choose white socks for a dark suit. Socks can be either the same tone as shoes or a suit. By the way, pay attention to their length. When you sit, no open parts of legs should be visible.
It is important not only to be able to combine things according to their style and color but also to know what flatters your body shape. A short man in white trousers and a dark double-breasted jacket will look ridiculous. If you are not tall, wear trousers few shades darker than the top.
If you want to look slimmer, pick a shirt of a lighter shade than a jacket and avoid horizontal lines prints. Focus on the neck. For example, a long scarf will draw attention away from the belly as well as a buttoned jacket.
Do not be afraid of implementing a little bit of fashion into your wardrobe. You can at least keep up with the color tendencies, and remember them while choosing the color scheme during shopping.
As you can see, looking trendy and stylish is easy! So we hope that our tips will help you make a good impression!