Today, men are more than willing to shun mediocre and dull looking underwear and get into branded menswear that features comfort, style and fashion. Australia based Mosmann has understood this very mentality of men, which is why they resolved to introduce unique, fashionable and trendy menswear for men of different shapes and sizes. Their dedication and constant endeavour has encouraged the brand to expand their market further. Today, Mosmann has offices in several countries including France, Brazil, U.K, Japan, U.S., Germany and China.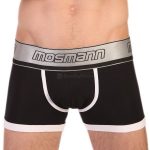 The Mosmann collection of menswear consists of apparels such as trunks, boxers and high-quality and unique briefs. The reason why more and more men have started liking Mosmann is because it is capable of offering underwear in unimaginable cuts and patterns. Mosmann is credited for producing a range of jocks for Men that are not only innovative, but also capable of offering comfort par excellence. The brand has forced men to change their definition of underwear. Mosmann is known for its thick shaped waistband, seamless stitching and for its fabric quality that is mostly a blend of lycra and soft modal. In fact, Mosmann's Classic collection has been appreciated the world over for its bold designs and colors. Following the success of their Classic collection, the brand has now introduced the Silver and Gold range of briefs and boxers that consist of Essential, Sport and Skin boxers and briefs. Mosmann range of underwear is playful, stylish and reflects the Australian lifestyle. The brand came into existence in the year 2008 and believes in offering men with unique looking underwear that allows them to flaunt their assets as well.
Mosmann believes that every man must look good and underwear is an essential part of any and every man's wardrobe. If you are willing to get into unusual patterns made from high-quality fabric, feel good and move around in style, then grab Mosmann right away!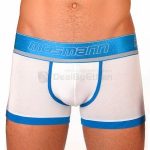 The Mosmann Classic Boxer Brief Underwear is one of the finest products being offered by the brand. It is meant for men who are sophisticated, bold and admire trendy and high-class designs. This particular trunk is made from fabric, which is a blend of 95% Modal and 5% Lycra. The fabric is extremely soft, smooth and breathable. It features a 60mm wide waistband that is metallic silver in colour. If you haven't been able to wear something really different all these years, then it is about time that you did!
You can order Mosmann Classic Boxer Brief Underwear at our website DealByEthan which provides great discounts as well!