Spy Henry Lau range of products combine bold, innovative and extremely crazy styles so that men get to experience the world a little differently. The brand has always succeeded in combining unusual yet motivating styles, colors and fabrics. Anyone who sees and slips into a Spy Henry Lau creation is overwhelmed with joy, for each and every design and pattern of Spy Henry Lau is undoubtedly unique and motivating.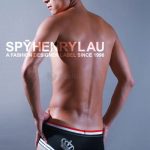 Spy Henry Lau brand was introduced by ace designer Henry Lau from Hong Kong. Lau was always engrossed in the world of fashion and fabric and it was at the Hong Kong Polytechnic University, where he acquired his Bachelor of Arts in Fashion Design in 1995. Following this Lau created many adorable costumes for different celebrities and local singers including Leslie Cheung, Jay Chow, Anita Mui and Hacken among others. It was in 1996 that Lau decided to join a fashion house and began creating exciting new designs for countries such as South East Asia and Japan. Soon after he inaugurated his own studio and introduced his first shop "Spy Theatre" selling "Spy" collection in the year 1998. The main motto of Spy Theatre is to offer fashionable clothing for the trendy and (of course!) young generation.
Men who choose Spy Henry Lau designs have a taste for the unusual and trendy, which is why the brand has managed to make its place right in their hearts. The sheer comfort and style that Spy Henry Lau designs exhibit is enough to motivate any wearer.  The fact that the likes of DeBeers Diamonds and Motorola, appreciate Spy Henry Lau's creation is good enough for anyone to understand that the brand is truly remarkable. The brand designs a range of products for men including, Bikini Swimwear, Bikini Underwear, Boxer Brief Underwear, Brief Underwear, Head Wear, Boxer Brief Underwear, Long Sleeved Shirts, Long Sleeved T Shirts, Loose Boxer Shorts Underwear, Muscle Shirts Sleeveless, Muscle Top T Shirts, Shorts and Square Cut Trunk Swimwear among others.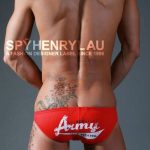 The product being discussed here is the Spy Henry Lau Crown Brief Underwear. This fashionable brief underwear is made from fabric of the highest quality that is essentially a blend of 95% Cotton and 5% Lycra. This underwear is available in different sizes and colors such as white, grey and black. It comes with a crown printed right at the back and is great for accentuating your pouch and masculine features.
Look for more Spy Henry Lau products and other brands and place your order at DealbyEthan today!