Electric Lingerie is one of the most popular lingerie companies of all time, and the speciality of the brand lies in the fact that it strives to cater to the fantasies of men from all sections of life. This brand has further spread its wings by coming up with another brand called Blue Line. This brand follows the same principals as the original master and caters to all kinds of fantasies of men. The sexy men's underwear manufactured by this brand is not only supremely affordable but fun and high quality as well!
Blue Line menswear manufactures a vast number of apparel for men in many varieties including boxer brief underwear, bikini underwear, g string underwear, brief underwear, tank top t shirts, short sleeved t shirts, thong underwear, jock strap underwear, etc.
Bikini underwear from Blue Line is amazing and available in a number of variations in designs and prints. Their performance metal ring pouch bikini underwear is a great addition to the huge variety of underwear on offer by the brand. The engineering of the pouch offers size enhancement to the wearer. The microfiber used is comfortable and sleek, offering shaping and cupping which gives the wearer a great presentation. There are other kinds of styles, materials and cuts used to create variations and diversification on the bikini underwear type of underwear.
Boxer brief underwear made by Blue Line comes in a variety of styles as well. There is the fully covered and full pouched underwear, while on the other hand, there is the trunk underwear which has some mesh and is see through in some parts. The materials used are extremely durable so that shape is retained, no matter what.
When you are buying g string underwear from Blue Line, you will have to decide whether you want to hide it or flaunt it as there are two basic variations- one made of mesh and the other which uses microfiber and offers a full cover to your private parts, ideal for those who are more private.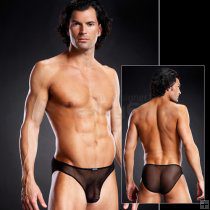 Even with their jockstrap underwear and thong underwear there are the choices of mesh or microfiber. Their styles and cuts offer full support and enhancement to your private areas so that you do not feel even the hint of discomfort while wearing them.
Visit us at Deal by Ethan today to take a close look at the range of Blue Line underwear and get assured discounts! Hurry!!