Do you feel that your T Shirt is not doing justice to your well- sculpted body? Do you want to be the ultimate enchanter casting his spell on the world? Just get rid of your old T Shirt and get hold of a JOCKO T Shirt Van Muscle Top! These close-fitting V necked muscle tops give your body the perfect shape, enhancing your manly look. These Muscle Top T Shirts are sleeveless and therefore enable free movement of the hands. It wouldn't be wrong to say that this is the perfect attire for your workout sessions when you simply want to avoid hindrances.
JOCKO's only intention is to make your comfortable. The fabric that goes in making JOCKO's products has softness and stretch. This is reason why gym freaks mostly prefer JOCKO's apparel. Your body is your priced possession and you care for it. You don't want to spoil your looks in loose drab T Shirts. JOCKO understands your needs. JOCKO T Shirt Van Muscle Top is available in six different colours (black, mango, navy, and red, sea blue and white) and three different sizes (medium, large and extra large). So guys get hold of your favourite colour and indulge in your workout session!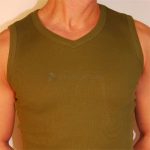 JOCKO specializes in underwear (boxer briefs, briefs, Jock Strap, long boxer briefs), swimwear (Jockstrap, bikini, shorts), short sleeved shirts and T shirts apart from Muscle tops. Style, comfort and exclusiveness are the three words that go in defining JOCKO'S products. Your clothing has the power to alter your personality. JOCKO designs their products with the sole intention to make you look different. The logo proves the undaunted spirit of the designers whose perfect workmanship gets reflected in their products. So get your JOCKO T Shirt Van Muscle Top and display your chiselled physique!
You can now buy this product on our website DealByEthan which offers great discounts on mens apparel!