Boxer briefs are quite popular with men because of their tight fit and perfect cut. Moreover, the design ensures utmost comfort and the underwear can be worn under any outfit without any difficulty. When you indulge in your favourite sport or your fitness session, just slip into this underwear and simply elevate your comfort level. In the last few decades, various innovations have been made in the world of mens fashion. A lot of experiments have been done with boxer briefs, creating the sexiest and sizzling designs for metro sexual men. Ergowear, a popular brand from Chile has been creating stylish mens underwear since 2003. Skillful designers are eager to produce mens inner apparel that are not only trendy but extremely comfortable.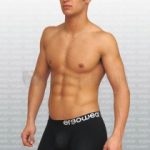 A quick glance at the Ergowear Max Premium Midcut Long Leg Boxer Brief Underwear proves the point. The tight fit of this particular boxer brief has made the design quite popular among men.  The unique 3- dimensional pouch style provides adequate support to your package and enhances your shape. The underwear is provided with an 11/2 inch broad waist strap with the brand logo labelled on the strap. Now, you can reveal the strap from under your pants and simply enhance your image. The fabric that goes in making this boxer brief comprises of cotton and elastane. Cotton takes care of your comfort, whereas elastane ensures perfect strechability. Thus, the black coloured boxer brief tighly adhers to your body enhancing your ravishing looks.
Apart from Long Leg Boxer Brief Underwear, the brand aslo manufactures bikini swimwear, bikini underwear, brief underwear, jockstraps, ordinary boxer briefs, thong underwear; square cut swimwear, thong swimwear and many other stylish outfits. So, if you are eager to flaunt your chiselled physique, then grab Ergowear Underwear today!
You can find Ergowear Max Premium Midcut Long Leg Boxer Brief Underwear and other fashional mens apparel at our website DealByEthan!