Mens clothing has undergone a lot of change in recent years. In present times, experiments are made with casual clothing. A little twist and turn of the design gives a completely different look to the apparel. Generally, vests were used as underclothing, always available in plain typical shades. However, in recent times, the vest has been given some stylish cuts that make it one of the trendiest outfits. Allure, a popular brand has made a lot of innovations with mens apparel. Since its inception in 1993, the brand has been experimenting with new designs, providing a chic look to its apparel.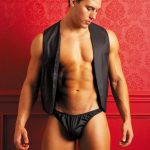 The Allure Rubber Look Vinyl Vest has become popular with men because of unique cut and stylish design. The most alluring feature of this vest is the rubbery texture that makes it the most exclusive among vests. Unlike ordinary vests, Allure Rubber Look Vinyl Vest is parted in the middle, making you look seductive! It can also be worn over some other outfit, thereby changing the typical trend of vests. The unique part of the vest is the rubbery glossy texture of the fabric. The sizzling black shade simply enhances your charm. This particular vest is available in four different sizes – small, medium, large and extra large. So get your right size now!
You love your body and want to adorn it with the best outfit. You want to be regarded as the most stylish person. Allure fulfils your wishes and desires. Your well sculpted body gets the best look and you get the best compliments with the Allure Rubber Look Vinyl Vest. Your chiseled body needs to be revealed and extract admiration. The Allure vest is designed to expose the required parts of your body, simply enhancing your sex appeal. Get your Allure Rubber Look Vinyl Vest and gain the hypnotic power to enchant the world by your looks!
You can purchase this product at our website DealByEthan which offers great discounts on stylish and sexy menswear!