Marcuse brand is synonymous with style, comfort and superior quality. The brand was incepted in Australia and has all the requisite character and capacity to challenge any swimwear brand and pattern that is traditionally worn by men in different parts of the world. So, if you are on the lookout for exclusive designs and patterns as far as swimwear for men are concerned, you are bound to find plenty of designs that will meet your tastes and personalities perfectly well. Marcuse always believes in laying emphasis on style and quality. The entire Marcuse swimwear range has the power to leave you enchanted.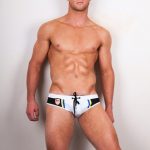 Marcuse is hot, stylish and above all different. You can always count on Marcuse for it has the much required experience to offer unique cuts and patterns when it comes to designing swimwear for men. The beauty of Marcuse swimwear is that they offer cuts and styles that are revealing and different at the same time. It combines trendy patterns to produce revealing yet fascinating looking swimwear, which will make you centre of attraction whether you are on the beach or at the pool. Nobody understands the male physique better than Marcuse, which is why their swimwear collection fits appropriately, no matter what your shape and size.
Marcuse has the ability to introduce flawless designs and believes in using high-quality clothes to produce exotic, sexy and fashionable swimwear. Almost all their designs sport a draw string that allows men to adjust it according to their individual requirements. There is absolutely no need to look for precise size when you are glancing through the Marcuse swimwear collection, for each of their designs offer great fit and amazing comfort. The swimwear range offered by Marcuse includes, Fighter, Resort, California, Wave, Muse, Arrest Me, Gentle, Marcus, Venus, Nirvana, Together, Mira, Alexander, Madomination, Sunrise and Verti.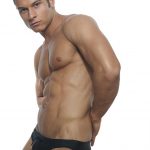 The Marcuse Fighter Bikini Swimwear is essentially low rise swimwear available in different colors. It features a Marcuse's brand new logo right on the front and is fun yet sexy swimwear that can be easily donned to hit the pool party. You could also pick the low hipster swimwear that has subtle yet exciting splits on the side that partially reveals your lower hips. The gold Marcuse logo embroidered at the back will definitely make men look stylish and seductive, both at the same time.
Look at the entire range of Marcuse swimwear by simply visiting us at DealbyEthan and avail great discounts at the same time.