Dating back, you can trace the origin of men's tank tops in their typical bathing suits, which were in fashion during the 1800's and were worn with a pair of shorts. This sort of bathing suit was mainly worn by athletes, and also had the same sleeveless design tank tops have today.  So, it can be said that the sleeveless design found in tank top T shirts has never gone out of fashion. It was only later though that it was made sexier and trendier to suit a man's muscular physique.
Presently, trendy tank top T shirts are quite the rage.  This type of outfit can be worn for different casual occasions and the sleeveless design elevates the comfort level of the wearer.  Since tank top T shirts are sleeveless; you can reveal and flaunt your curvaceous biceps as you wish.  Moreover, tank tops go with any casual pair of pants or jeans.
Perceiving the demand for tank top T shirts among men, different brands started manufacturing stylish tank top T shirts to cater to their requirements. However, Gyz is one brand that not only produces classy tank top T shirts, but also looks after the comfort level of the wearer, As a result,  the  designers of Gyz believe in using soft and premium fabrics for creating their tank top T shirts.
Based in the United States, Gyz is a popular brand that designs some very stylish menswear. Their speciality lies in using quality fabrics that retain luxurious shimmer and gleam which is indeed eye-catching. Apart from tank top T shirts, Gyz also creates trousers and pants, kimono, pyjama sets, boxer underwear, brief underwear and thong underwear.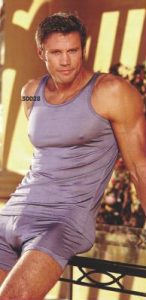 The shimmering and soft Gyz Silk Knit Tank Top T Shirt is designed keeping in mind the basics of the male physique.  Since this tank top is silk knit, it is extremely smooth and soft, and provides utmost comfort to the wearer. Moreover, it tighly adheres to the body, making the wearer's curves and muscles quite prominent.  Its rounded necline along with its sleeveless design is preferred by men a lot. This particular tank top T shirt is available in four colours – moss green, burgundy, black and platinum silver.
You can find Gyz Silk Knit Tank Top T Shirt at our website DealByEthan. Our website also offers various fashionable men's underwear, loungewear, swimwear and other men's apparel at affordable prices.