Men like wearing some stylish and trendy swimwear that will help in enhancing their looks on the beach. Earlier, men had few options when it came for selecting their swimwear, but nowadays, things have changed a lot. Now, men's swimwear is available in varied designs, catering to the different styles and tastes of men. Designers of well-known brands are coming up with some exclusive, colourful and stylish swimwear, especially men's shorts swimwear that men love to wear for various water sports.
Sauvage is one such brand whose ace designer Elizabeth Southwood spends a lot of effort in bringing out some unique and sizzling shorts swimwear created from Italian micro fiber, lycra and nylon that enhance the male physique.  Sauvage is based in San Diego, California, but men in countries worldwide love Sauvage products. Elizabeth Southwood believes in using some high-quality fabrics for creating the brand's different menswear.
Moreover, the vibrant and cool colour combinations of Sauvage swimwear like their bikini swimwear, square cut trunk swimwear, shorts swimwear and boardshorts beachwear are quite exclusive. Sauvage also manufactures some stylish men's underwear like boxer brief underwear, loose boxer shorts underwear and shorts.  They also have some nice collections of long sleeved T shirts and short sleeved T shirts.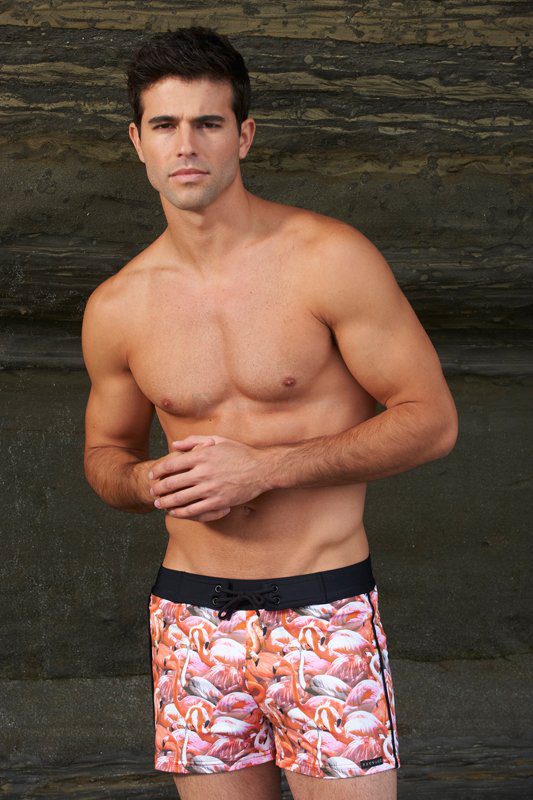 When you are on the beach nothing suits your better than Sauvage Flamingo Retro Swimmer Shorts Swimwear. Designed to make you enjoy various aquatic sports, this shorts swimwear is indeed stylish. The most striking feature of this swimwear is its unique flamingo print that looks great on the beach! It is neither too loose nor too tight, neither too long nor too short – just the right size to make you look extremely sizzling and chic. Its broad waist strap is provided with drawstrings that allow you to adjust this shorts swimwear accordingly.
You can find the Sauvage Flamingo Retro Swimmer Shorts Swimwear at our website DealByEthan, which offers great discounts on various fashionable menswear.