Trends in the men's fashion world have been quite unpredictable in recent times. In the past few years, we have seen men go crazy for certain styles and trends, which soon petered out and gave way to new trends and designs. However, it can be said that T shirts have never lost their importance in the men's fashion segment. Since post World War II, designers have been constantly trying their best to make this outfit even more exclusive and stylish.
As a result, a lot of variations have come in like the long-sleeved T shirt, tank top T shirt, muscle top T shirt and short sleeved  T shirt, each designed to suit various occasions, styles and tastes. Among the varied designs, the muscle top T shirt is quite in demand and preferred by most men.
Allure is one brand that has been making some very hot, trendy and ravishing muscle top T shirts since their inception in 1993. This brand is based in Mississauga, Ontario and has gained worldwide popularity it's their sizzling, erotic and alluring designs. Moreover, the brand's designers prefer using leather vinyl for crafting various men's outfits; as a result, you simply look hot and sexy!
Apart from muscle top T shirts, they also create short sleeved T shirts and vests. They also design some really sporty and fashionable men's underwear like boxer brief underwear, G string underwear, jock strap underwear, loincloth underwear, pouch underwear and thong underwear. Men also love their stylish hats.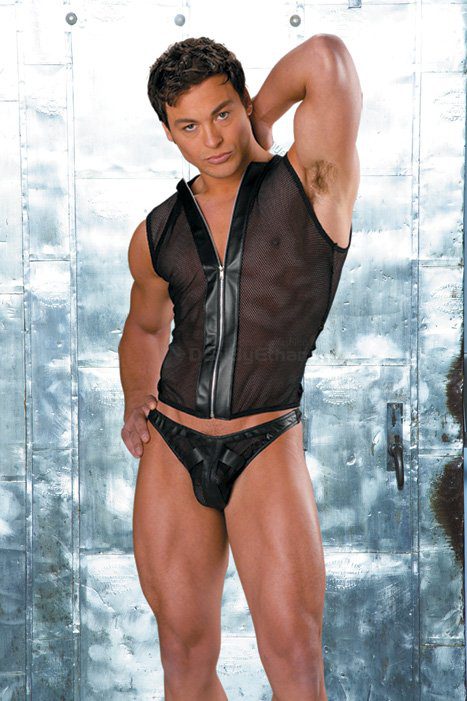 If you are looking for a really ravishing muscle top T shirt to enhance your looks then, Allure Men's Leather & Fishnet Zip Up Muscle Top T Shirt can surely fulfil your demands.  When you go out in this shimmering black coloured muscle top T shirt, you are sure to draw in everyone's gaze. The zipper opening in the front and the fishnet design at the back is indeed striking.
Since it is sleeveless, you can just flaunt your curvaceous biceps the way you like! This muscle top T shirt is ideal for casual parties, night clubs and other casual occasions where you want to be the centre of attraction.  You can get this muscle top T shirt in four different sizes- small, medium, large and extra-large.
Pick your right size and be the hunk to entice everyone. You can get Allure Men's Leather & Fishnet Zip Up Muscle Top T Shirt as well as other fashionable menswear at our website DealByEthan, which offers various men's outfits at affordable prices.