It is indeed interesting to see how different designs have been added in men's swimwear collections over the past decade.  Now, men can pick and choose any stylish swimwear that suits their styles and tastes.  Men who are extremely fashionable and love to flaunt their manly physique on the beach invariably settle for bikini swimwear, which accentuate their bodies. The edgy cut and revealing design are also preferred by those men who are tired of wearing traditional swimwear and want to try something contemporary and unconventional. Bikini swimwear fulfils all these requirements.
Currently, many brands that focus on designing some stylish menswear are manufacturing bikini swimwear for men.  However, one brand that creates some sexy and edgy bikini swimwear which enhances the well-toned male physique, is none other than ES Collection. Based in Barcelona, Spain, ES Collection has grown to become one of the most popular brands in Europe.  The bikini swimwear designed by this brand are not only trendy but also quite comfortable, being made from high-quality and stretchable fabrics.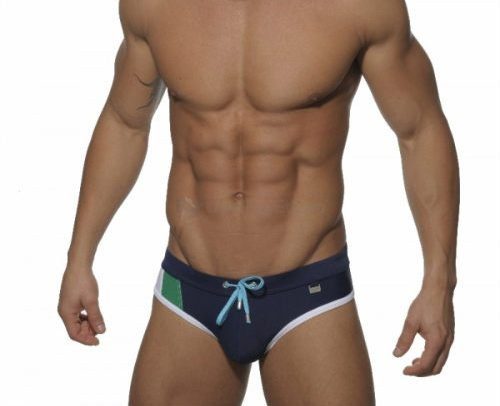 Excessively sexy and sizzling, ES Collection Sweden Low Cut Bikini Swimwear is crafted from polyamide (80%) and spandex (20%).  Due to the presence of these materials, their swimwear remains quite stretchable and tight. Moreover, it is designed with the "Pack Up" system where the bikini swimwear has a padded pouch in front for added comfort.  However, if you feel uncomfortable, you can also remove this padding.  The presence of a drawstring allows you to adjust this swimwear according to your requirements. You can get this trendy bikini swimwear in two varied colour combinations- navy/green and charcoal/red.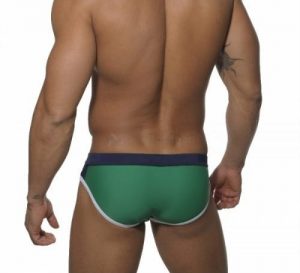 The brand ES Collection was founded in 2005. Since its inception, this brand has been making some trendiest and stylish outfits for men. You can find some chic men's swimwear like bikini swimwear, G string swimwear, jammer swimwear, shorts swimwear, square cut trunk swimwear and boardshorts beachwear made by this brand. They also make some stylish men's underwear like bikini underwear, boxer brief underwear, brief underwear, G string underwear, jock strap underwear, shorts and bodysuits. Their long sleeved T shirts, short sleeved T shirts, tank top T shirts, sleepwear and hats are also quite classy.  They even offer mix and match options.
Do you want to pick up some ES Collection Sweden Low Cut Bikini Swimwear? Well, come to our website DealByEthan today and get different stylish mens apparel at affordable prices!