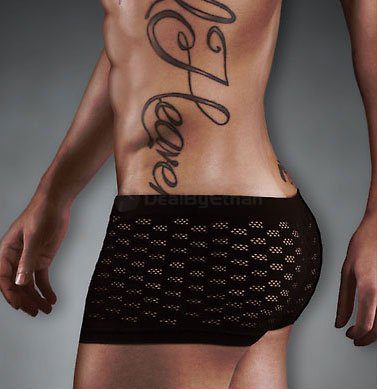 It is often said that fashion comes at a cost. But that's not the case with mesh underwear for men, which has taken the fashion scene by storm. See through underwear, sheer, see-thru or mesh underwear as it is better known as, has achieved stellar success in terms of popularity. This form of underwear is revealing and daring, leaving very little to the imagination. The outright raunchiness of the garment also fuels and titillates the senses. The transparency of the woven fabric depends on the weaving, and can be both vaguely opaque and fully transparent.
Mesh underwear for men can also be considered as a very practical garment despite its apparent see-through fabric and sexiness. The fabric is very light and absolutely breathable, so the skin can breathe easily, ensuring good air flow and preventing chafing and sweating. So, ultimately it serves two purposes – its looks downright sexy, and is comfortable to wear as well so it can be worn anytime. In addition, the material is soft as silk so it also feels good against the skin.
Mesh underwear for men is meant for adventurous males who want to experiment. The call for adventure has been answered by several brands and fashion houses manufacturing mesh underwear. Brands like Allure for Men, Blue Line, Boqari, BumGear, California Muscle, Candyman, Clever Moda, Cocksox, Cottelli Collection, Croota, Delio Dietz, DMK Designs, Doreanse, Dreamgirl's Dreamguy range, Elegant Moments, ES Collection, Excite, Exotic Body Wear, Falocco Collection, Gia, Gigo, Go Softwear, Good Devil, Gregg Homme, Groovin, Intymen, Jockey, JOCKO, Joe Snyder, King Style, Kiniki Men's Range, Little Boy Blue Design, Male Power, MANstore, McKillop, Mosmann, Mundo Unico, N2N Bodywear, Narciso Underwear, PAPI, Pikante, Pistol Pete, PPU, Private Structure, Propaganda, Pulse, Punto Blanco, QZ Bodywear, etc. Each of these brands caters to the different tastes of individuals and adds something different to the designs, patterns and styles of mesh underwear for men.
Mesh underwear is available in different styles like g string, briefs, sheer trunks, bikini briefs, mesh thongs, jock straps, sports jock, etc.
Briefs provide full coverage for the butt area, while at the same time the mesh material proves to make the style sizzle and make the briefs a far cry from being conventional.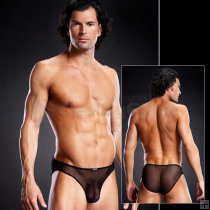 G strings of mesh are the ultimate when it comes to having a naughty collection of underwear for men. The stunning style is revealing and sexy. The mesh pouch and minimal fabric leave nothing to the imagination particularly if you are looking to spend some naughty times with your partner. The pouch provides full support and comfort to the wearer.
For those who want to experiment with the material but do not feel comfortable with revealing g strings or jockstraps, there is always the option of going in for sheer trunks. They are sheer, but the full coverage of the underwear will provide comfort and keep the wearer from feeling absolutely exposed. The support of the style is also quite undeniable.
Those who have already fallen in love with the mesh style of underwear will surely love the concept of bikini briefs. They look stylish and brilliant, and provide good support and fit. The superb fit of the style is sure to make you look more appealing in the eyes of your partner. This style not only boasts of a superb design but a sculpted fit as well.
For those who want to take the concept of mesh underwear for men to the next level, there is the option of trying mesh thongs – that are bold, daring and innovative.